India Opens Second Multi-Modal Terminal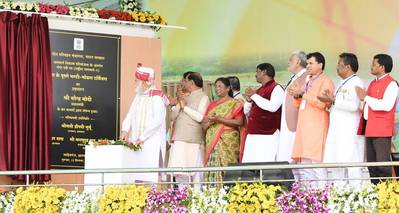 The Government of India opened its second multi-modal terminal (MMT) yesterday, September 12, 2019. Located on the River Ganges at Sahibganj in Jharkhand State, the new terminal is now ready for business following the completion of a two-year construction project managed by the Inland Waterways Authority of India (IWAI). India's Prime Minister Narendra Modi laid the foundation stone for the $40.32 million project in April 2017.
Phase one of the terminal was inaugurated by Prime Minister Modi via a two-way digital communication system during an event held in Ranchi, Jharkhand as part of the Jal Marg Vikas Project (JMVP), the second of three infrastructure projects on the River Ganges, and is designed to create a waterways route for Indo-Nepal cargo transport. Local mines in the Rajmahal area will also benefit from the terminal, as it will help to transport domestic coal to several thermal power plants located along India's National Waterway-1. The terminal will also support the transportation of other commodities such as stone chips, fertilizers, cement and sugar.
The multi-modal terminal is expected to generate about 600 direct jobs and 3,000 indirect jobs in the region, while an investment of $52 million will help to expand the terminal's capacity under a public-private partnership, the terminal's capacity being increased from three to 5.4 million tonnes a year during phase two of the project. The private concessionaire will be responsible for this phase two development.