Frigate Launched for Indonesian Navy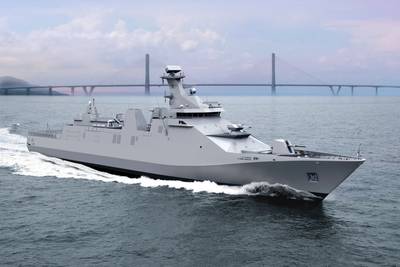 Damen frigate modularly constructed in the Netherlands and Indonesia in collaborative construction project
PT Pal's Surabaya Shipyard has launched the first of two SIGMA 10514 Perusak Kawal Rudal (PKR) guided-missile frigates designated for the Indonesian Navy (TNI AL). PT Pal built these ships in collaboration with Damen Schelde Naval Shipbuilding (DSNS).
The launch ceremony was attended by guests of honor Indonesian Minister of Defense, Ryamizard Rycudu along with Coordinating Minister of Maritime Affairs, Rizal Ramli; ambassadors from neighboring countries; the Governor of East Java, Soekarwo and Chief of the Navy Admiral Ade Supandi.
Coordinating Minister for Maritime Affairs, Rizal Ramli said, "The Launching of PKR1 is a great momentum for the development of the Indonesian shipbuilding and maritime industry. This has shown that Indonesia has the human resources and skills to develop naval vessels. However, we must still improve our technology and knowledge in order to compete internationally. Certainly, this is what we hope to achieve from our partner DSNS."
Firmansyah Arifin, President Director of PT Pal, "The launching of the first PKR went very smoothly. We are confident that the installation of the remaining technical parts of the vessel will be carried out in due time, so that the delivery phase can be achieved on or ahead of schedule."

The SIGMA 10514 PKR frigate was a project initiated in August 2010 by the Indonesian Ministry of Defense. The Ministry awarded a contract to Damen for the construction of the first SIGMA 10514 PKR in December of that year. The first steel was cut by the former Minister of Defense, Purnomo Yusgiantoro in January 2014 and the keel was laid in April 2014 at PT PAL shipyard in Surabaya. The PKRs are designed and built to endure various missions.
Primarily, the vessel will be operated for anti-air, anti-surface and anti-submarine warfare. However, it is also compatible with maritime security, search and rescue, patrol and humanitarian support tasks.
According to Damen, the SIGMA 10514 PKR has a proven design and is uniquely built using a modular approach. SIGMA stands for Ship Integrated Geometrical Modularity Approach. In essence, the PKRs are divided into six modules of which four were built in PT Pal's shipyards while the other two modules were built and fully tested at DSNS in the Netherlands. The modular building enables greater flexibility, is more cost effective and allows for building in various locations worldwide. Essentially, it provides a large portion of technological transfer. When the 6 modules were complete, PT Pal had the responsibility of integrating them into one sole vessel.
Technically, the PKR has a length of 105.11 meters, a beam of 14.2 meters and a displacement of 2,365 tons. The vessel features a fully air-conditioned accommodation for up to 122 persons. The helicopter deck is suitable to host a medium sized helicopter hanger with a weight of max 10 tons. The vessel is also equipped with two rigid hull inflatable boats (RHIBs) for rescue and patrol operations. The frigate has a speed of 28 knots, and can sail up to 5,000 nautical miles at 14 knots. The endurance is at least 20 days at sea.

The propulsion system of the PKR vessel utilizes a combined diesel or electric (CODOE) which consists of two 10,000 kilowatts maximum continuous rating (MCR) diesel engines, two 1,300 kilowatts electric motors, two double input gearboxes and two 3.65 meter controllable pitch propellers. The vessel is equipped with a sophisticated platform management system that enables operating, control and monitoring of the ship's auxiliary systems. The vessel will naturally be equipped with a complete, state-of-the-art sensor and weapon package to counter air, surface and sub-surface threats. For self-defense, the vessel is also equipped with comprehensive electronic warfare systems.

The sensory aspect of the SIGMA is equipped with 3-D surveillance radar with a range of 250 km. Furthermore, there is a target indication radar which also has an electro optical fire control system. The sensor array also comprises a Friend or Foe Identification (IFF) system and a hull mounted sonar.
Damen said the project between PT Pal and DSNS also led to a flow of knowledge transfer from Damen to its Indonesian counterpart. In fact, more than 300 people from PT PAL benefitted from the extensive sharing of shipbuilding expertise. PT Pal shipyards also ameliorated its infrastructure as part of the project.
Arifin said, "The partnership between PAL and Damen is undoubtedly a great opportunity. In particular, PT Pal has extensively benefitted from a transfer of knowledge and technology. For instance, we have improved our yard standards and trained our workers. Certainly, we would highly recommend the continuation of this strategic partnership for the future.