WINS & POSH Form Indonesian Offshore J/V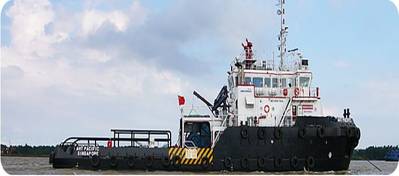 PT Wintermar Offshore Marine Tbk (WINS) joins with PACC Offshore Services Holdings Ltd (POSH) for Indonesian oil and gas joint venture.

The joint venture will own and operate two units of Indonesian flagged 100+ tons bollard pull AHTS, "WINPOSH Rampart" and "WINPOSH Resolve", both of which have been awarded contracts to support drilling activities for a multinational oil and gas company for up to two and half years.

This joint venture will consolidate WINS' market share as one of the leaders in the offshore support services industry in Indonesia, and allow the JV to meet the strong demand for offshore support vessels in Indonesia.

The government has awarded an increasing number of offshore blocks for drilling and exploration activities in Indonesia since 2007. Higher offshore activities coupled with deadline for Cabotage have created a strong demand for Indonesian flagged offshore vessels, particularly in deepwater projects.
"Deepwater drilling will drive the exploration activities in the coming years as most of the new offshore blocks are located in the straits of Makassar and Eastern parts of Indonesia. With the deepwater experience that POSH brings, and their large fleet and global experience, we are well positioned to serve the growing demand for deepwater vessels in Indonesia's offshore oil and gas industry." said Sugiman Layanto, Managing Director of WINS.

As at 30th September 2012 the total contracts on hand of WINS are valued at US$ 264-million, compared to US$196-million at the end of June 2012.