EPA Promotes Green Initiatives at Port of Houston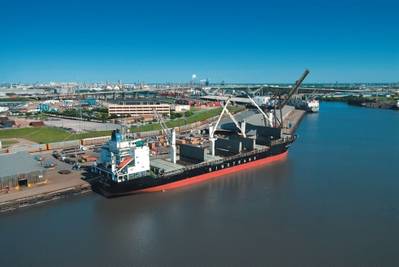 "We celebrate that the Port of Houston is growing and thriving, while still reducing pollution," Administrator McCarthy said. "The DERA program is a good investment for both business and the environment."
"As the leading port in the nation for environmental stewardship, we are pleased with the announcement of the award of substantial EPA grants to improve regional air quality," said Port Commission Chairman Janiece Longoria. "As part of the Port Authority's strong commitment to environmental stewardship, we have worked to reduce emissions from our own operations and those of our tenants, as well as the broader Port of Houston."
"Replacing old, high polluting diesel engines with new, cleaner technology is always a good investment," stated Jack Steele, Houston-Galveston Area Council Executive Director. "The grant funding awarded today is essential to ongoing efforts to reduce pollution and improve quality of life in the Houston-Galveston-Brazoria region."
"This collaborative effort is part of an ongoing strategy toward addressing air pollutants released from heavy duty diesel trucks, traditionally one of the largest sources of pollution at ports," said Environmental Defense Fund Toxicologist Dr. Elena Craft. "Clean trucks mean cleaner air and cleaner air helps save lives and prevents disease. As the nation struggles with poor air quality around goods movement areas, successful partnerships among diverse groups are key to finding solutions."
The grant will help replace 25 older drayage trucks with trucks powered by certified engines that are model year 2011 or newer. These drayage trucks operate in the Port of Houston and along the Houston Ship Channel. The new trucks will also have GPS units to collect data on idling and port operations, which will allow fleet owners and operators to gauge opportunities for additional fuel savings and emissions reduction. These reductions are important to overall air quality in the Houston-Galveston area, which currently does not meet Clean Air Act standards for ozone.
Most of the country's busiest ports are located near large metropolitan areas and, as a result, people in neighboring communities are exposed to high levels of diesel emissions, which contribute to smog and soot that can cause illness, hospitalization, or premature death. Since most ships and equipment at ports run on diesel engines, clean diesel projects at ports produce immediate emissions reductions and provide health benefits to those living and working in the area. Depending on the type of equipment, new diesel engines are 90% cleaner than the old engines they replace.
The grants are funded through the Diesel Emissions Reduction Act (DERA) and are located in areas where localities need the most help with local air quality. Since the start of the DERA program in 2008, EPA has awarded more than 700 grants in 600 communities across the country. And 150 DERA grants have been targeted to improving air quality at or near ports, with about $175 million in funding. EPA estimates that every $1 in DERA funding generates up to $13 in health care savings. In addition, for every dollar of DERA funding in a project, leverages $2-3 from project partners.