Inland Shipping Joins Forces in Amsterdam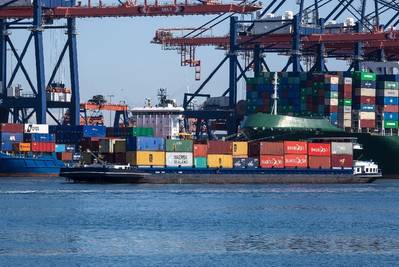 Inland shipping is essential for the transportation of containers on the Amsterdam-Utrecht-Rotterdam route. 250,000 containers are transported annually via this route

TMA Logistics, CTU and VCL join forces to establish the North West Central Corridor. This cargo consolidation will result in a more reliable barge product, more sustainable transport and fewer handling delays at the terminals.

The initiative is supported by the deep sea container terminals in Rotterdam, Port of Amsterdam, the Port of Rotterdam Authority and the sustainable logistics programme Lean & Green Europe.

Since February 18th, cargo is specifically bundled. In practice the partnership means that vessels will consolidate at least 150 to 200 containers at the various terminals for one deep sea container terminal in Rotterdam (RWG, APMT, ECT Delta, ECT Euromax). To start, seven inland vessels will make seventeen departures per week, transporting some 5,000 containers.

"Collaboration in corridors is absolutely vital," stated Etienne Morrien, Director of CTU. '"s "hinterland" we need to adapt to the growth in cargo, using innovative solutions to keep inland shipping competitive and reliable."

Rens Rohde, CFO TMA Holding said: "Bundling means lower demurrage and detention costs for our clients. It also means fewer containers transported by road."

The port authorities of Rotterdam and Amsterdam are delighted with this initiative. "We wholeheartedly support these kinds of projects in which the sector's interests come first," explained Rob Smit, Hinterland Manager at the Port of Amsterdam."Good handling of inland container shipping is vital to the development of the Netherlands as Europe's most efficient and reliable logistics hub."

The North West Central Corridor is in line with the cargo transport corridor programme approach, in which the Ministry of Infrastructure & Water Management, provinces, port authorities, the Top Sector Logistics and business community collaborate on so-called 'Top Corridors'.

Emile Hoogsteden, Director of Containers, Breakbulk & Logistics at the Port of Rotterdam Authority: "The West-Brabant Corridor already started last year and works in a similar way, connecting the ports of Tilburg, Oosterhout and Moerdijk with Rotterdam. We have already gained excellent experience with this."