Innovative Cat Crewboat Launched by Topaz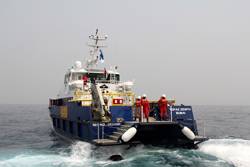 Incat Crowther announced the launch of Topaz Zenith. Launched by Topaz Shipbuilding, this 27.6m Wave Piercing Catamaran Crew Boat has been designed to support offshore energy installations.
Part of the development of the vessel focused on an unusual platform for the application. Following the evaluation of a series of criteria, a Wave Piercing Catamaran platform was chosen. The bow of the vessel is configured to interface cleanly with the rig structure, while being well clear in all other areas to avoid risk of collisions and injuries. To eliminate the risk of damage to the forepeaks or having the hull hang up on the rig structure, the vessel's bows have been configured so that they do not extend beyond the outline of the foredeck.
The vessel features a large aft-deck with container mounts and a Sormec M18FB/4S 23.5t/m deck crane. With a load capacity of 3t/sqm, the vessel has over 50 square meters of usable deck space, giving the vessel capacity to carry a 20ft Oil Spill Recovery container transversely on the aft deck.
In addition to the bow transfer system, passenger access is provided via side gates at the forward end of the cargo deck. This transverse passenger thoroughfare is protected from the cargo space by large cargo barriers, allowing passengers and cargo to be loaded concurrently.
The vessel is powered by a pair of 1193kW Caterpillar C32 Acert engines, driving Hamilton HM651 waterjets. Speed performance on sea trials confirmed the design predictions with the vessel achieving 32 knots sprint speed, and 28 knots service speed at 85% MCR. The propulsion system exploits the WOSR (Wide Operating Speed Range) of the Caterpillar engines, allowing full power from 2000rpm. This allowed a cost and weight saving by minimizing the rotation speed of the FiFi clutch equipment. The port main engine is mated to a hydraulic clutch turning an FFS 250x350HD FiFi pump that feeds a foredeck mounted fire monitor, with a rating of 600m3/hr.
A similar vessel is also nearing completion at Topaz Shipbuilding that will incorporate a slightly larger cabin and additional fluid capacities, and will provide 24 hour support in the wind farm sector.