Insights: Frank Manning, President & COO, Diversified Marine, Inc.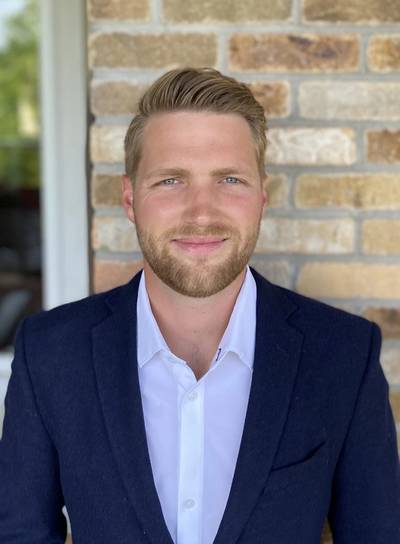 Frank Manning has quickly risen through the ranks during his eight years in the shipyard business, today serving as president and COO at Diversified Marine, Inc. (DMI) in Portland, Ore. Crucial along the way has been a passion for the business itself and the people that make it all possible.
"The first day I walked in a shipyard I knew that I was in the right industry," Manning said. "DMI has always been a relationship-based business. All of our customers are close friends, and we have relationships that are second to none," he said. "Knowing the crew, the people that operate the boats, and getting feedback to try to develop a better product, this was all super attractive to me."
Manning said his attention to the relationships side of the business is a pillar to his leadership philosophy. "One thing that stuck out to me early on with [DMI CEO] Kurt Redd—and learning from Kurt was key—his father, Earl, had always told him relationships are the most important thing. And the way you maintain those is to do what you say you're going to do."
For Manning and the team at DMI, whose primary business is building tugboats for customers throughout the U.S., this can sometimes mean coming up with new ways to solve challenges bound to arise in the shipbuilding industry.
The yard is situated in what Manning described as "an odd location for building boats", nestled between a road and the Columbia River, with a relatively small amount of land to work with. "As far as I know, we're the only shipyard in the country that actually assembles a boat on a drydock," Manning said. "And throughout our history, there has been a lot of good one-off examples of fighting through challenges, figuring out whatever we have to do to deliver for our customer."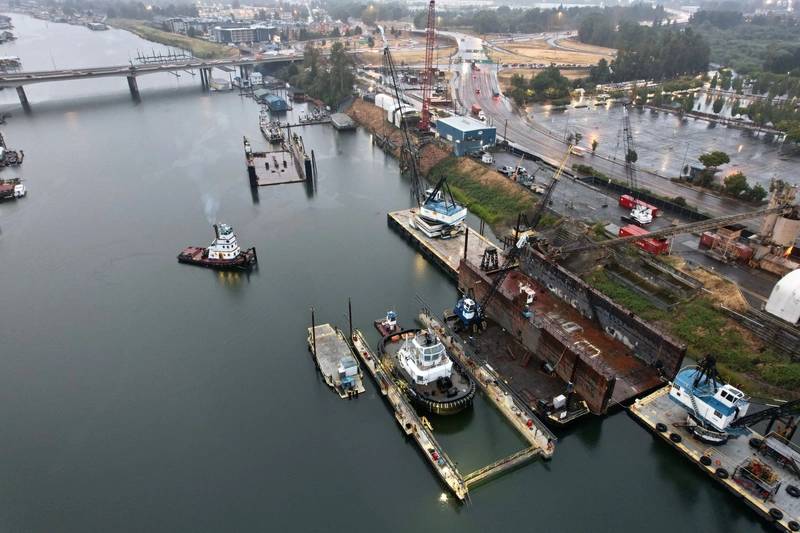 (Photo: Diversified Marine, Inc.)
When DMI was contracted to build its first tractor tug–Wynema Spirit, delivered to Brusco Tug & Barge in 2000—the shipyard didn't have a drydock, so it built the vessel on a barge. Once completed, both the new tug and the barge were transferred onto a large drydock, and DMI cut holes in the barge in order to sink it with the drydock to float the new vessel.
"To me, that serves as a testament," Manning said. "If we have an opportunity to perform for a customer, we will do whatever it takes to overcome any challenges."
As president & COO, Manning leads business development for DMI as well as day-to-day operations and yard improvement strategies. "We've been investing a lot in new systems and processes to move our company and bring it up to speed with modern technology." he said. "Among my top priorities right now is developing our processes internally to be more organized. Lately, we've had issues with lead times and price increases, so we're making sure we have systems to purchase parts at the right times in the project. We've revamped our inventory and receiving processes as well as our QA/QC (quality assurance and quality control) processes."
At the end of October, DMI performed sea trials for Artemis, a new Robert Allan Ltd. RApport 2500 tug for Brusco, to be chartered by Crowley. It is also currently building two Robert Allan Ltd. RAscal 2000s for Brusco. "I'm really excited about that model. It's a 65-footer that should be a 45- to 50-ton-bollard-pull boat," said Manning, who is also heavily involved in design and engineering.
With new tests and ratings coming out for the Caterpillar C32, Manning said he's hopeful to get a 60-ton boat in a 65-foot hull. "It's two thirds of the cost of the bigger model that we're building now. For ports where you don't need 95 tons, that makes a lot of sense. We're pretty bullish on [the RAscal] model."
After the Brusco builds, DMI will construct a RApport 2500 for Shaver Transportation, following the delivery of another tug, Shaver, to the company in 2022. The builder also very recently inked a deal to build a pair of RApports for Ursa Major Marine Holdings.
"We've had a lot of success with the RApport 2500," Manning said, noting a desire to continue building them, even looking at different hybrid options. "Once we get through our current backlog, we'll have built seven. . . We're working with Berg on a cool concept for a PTO (power take off) driven generator that charges battery, so you can remove a diesel generator from the tug."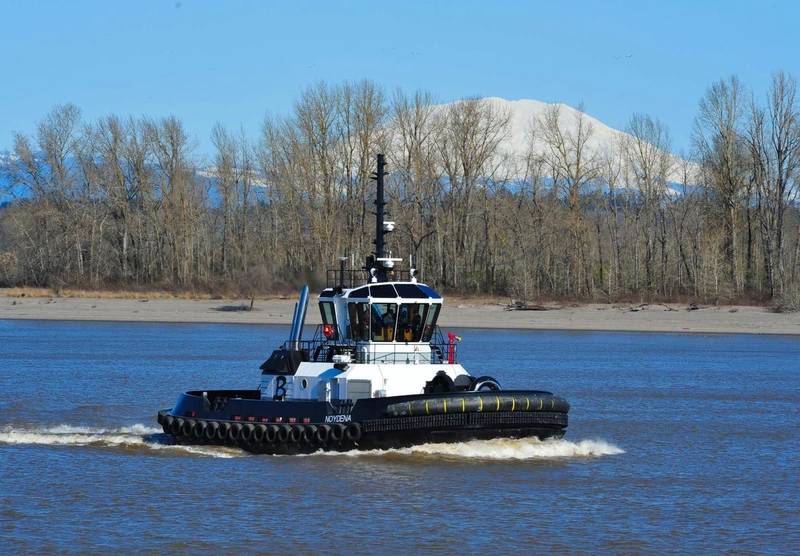 The vessel formerly known as Noydena was bult by DMI for Brusco Tug and Barge and is now being operated by Crowley under its new name, Hercules. (Photo: Crowley)
In addition to its primary business building tugs, DMI also has a repair division as well as a marine services arm that runs a fleet of seven tugboats and a number of barges for salvage and other work on the river.
Not only do these segments help DMI ride out dips in the cyclical shipbuilding industry, they also enhance its main product offering. "The repair and operation side definitely helped us build better boats," Manning said. "Getting feedback and ideas from captains and crew, and bouncing them off customers, it all works really well. And obviously, repairing boats—seeing what works and what doesn't—gives another perspective."
Throughout the company, people are key. "Developing a strong team that's willing, committed and bought-in, and that we take care of, that's the core of what we do." Manning said.
"One thing that I'm big on here, just from my experience, and being in yards up and down the West Coast, is developing the next generation of shipyard workers," Manning said. "Over my time here, we've dropped the average age of a worker by six years over three and a half years. So that's including our workforce aging by three years over that time. We're big on investing in attracting the right people from the next generation, and then developing them with skills and opportunities here."
DMI has partnered with local schools including Portland Community College (PCC), giving feedback to help develop their maritime specific welding program. The relationship has led to the hiring of many PCC graduates. "Twenty-five percent of our workforce is under 25 right now. We're getting a lot of younger people that like the culture here and want to learn a skill, and we're developing them. That's something I'm really excited about. We've got a great young group here," Manning said. "It all clicks when a boat delivers, and they get to see that boat sail off the dock under his own power."
As the company builds up its workforce, it is also looking to scale up production. "We want to get to four boats a year; we're currently at two," Manning said. "We're going to have our larger hulls built at another yard in Portland, and we'll do all the outfitting, piping systems and machinery installations here at Diversified."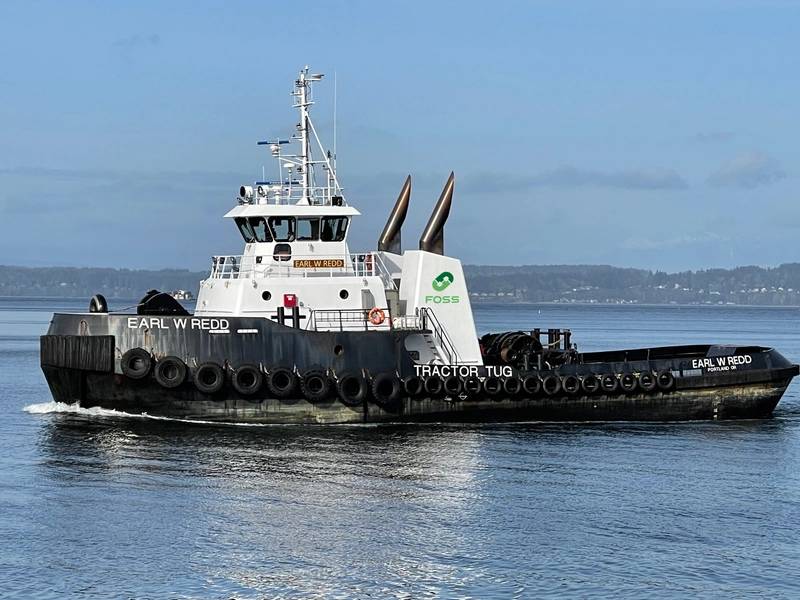 Earl W Redd, built by Diversified Marine, Inc for Tug Construction in 2017, was the United States' first EPA Tier 4 workboat. Foss Maritime operated the vessel under bareboat charter for the U.S. offshore wind industry. (Photo: Tug Construction, LLC)