Keppel's New Wind Turbine Installation Vessel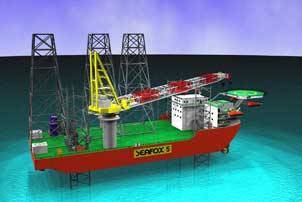 The Offshore arm of Keppel FELS has commercialized its new wind turbine installation vessel design for deeper waters in partnership with leading fleet owner and operator Seafox Group.

Keppel FELS Limited's (Keppel FELS) multi-purpose self-elevating platform (MPSEP) design has been chosen by the Seafox Group (Seafox) as the basis for a new-generation, wind turbine installation vessel that can withstand harsh offshore environmental conditions all year round in water depths of 65 metres in the North Sea.

Compared with existing wind turbine installation vessels, and the majority of those being constructed, this vessel can operate in some 45%-deeper waters, while reducing downtime even in extreme storm conditions, thus providing a potentially longer operational window. With a large carrying capacity of up to 12 turbines at a time, it enhances the efficiency of constructing offshore wind farms.

A 75/25 joint venture (JV) company has been formed between Keppel FELS and Seafox respectively, to build and own this $220m vessel. Seafox has the option of acquiring Keppel's stake in the JV company.

The KFELS MPSEP, designed by Keppel's R&D arm, Offshore Technology Development, has the ability to install and maintain heavy wind turbine foundations, such as the jacket and tripod types, and especially in deeper waters. In addition to being well-suited for servicing offshore wind farms, it also meets all the operating regulations of the offshore oil & gas industry and can support a wide range of related activities such as accommodation, well intervention, maintenance, construction and decommissioning.

The KFELS MPSEP vessel is scheduled for delivery in the second half of 2012, and will be managed and operated by Workfox BV, a member of the Seafox Group.