UK Aircraft Carrier's Final Flight Deck Module Installed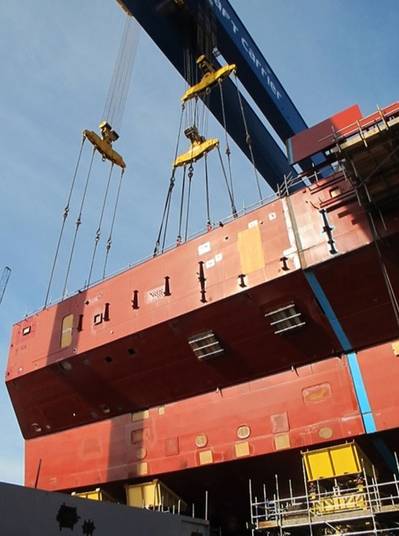 The flight deck of the first of the Royal Navy's new aircraft carriers is now finished, with the last 2 sections added to 'HMS Queen Elizabeth' in the Rosyth, Scotland, building yard.
The mighty Goliath crane lifted the sponsons – the sections protruding from the hull which give an aircraft carrier its unique shape – to join the remainder of the ship in her dry dock. To accommodate the F-35 Lightning II jets, which will land and take off from the ship, a ski ramp will be installed next month – mirroring the feature which propelled the Harrier skywards on the Invincible-Class of carriers.

By the standards of the Queen Elizabeth, the segments are relatively small; the larger sections weighed in at more than 10,000 tonnes (heavier than a Type 45 destroyer).

The Queen Elizabeth-Class project is probably at the peak of effort, with around 10,000 people involved in building the 2 leviathans, or providing equipment and systems to be installed on them.

While almost all the media attention is focused on the future flagship, there's also an all-out effort across the land to build her younger sister, the Prince of Wales, which is around 2 years behind Queen Elizabeth. Sections of 3-quarters of the Prince of Wales's hull are under construction in Portsmouth, Govan, Merseyside and Tyneside.