Costa Cruises Installs Funnel on Costa Favolosa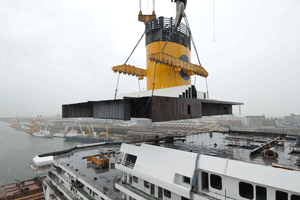 Work is continuing in Fincantieri's Marghera yard on the construction of the Costa Favolosa, the 15th member of the Costa fleet. Her funnel was recently installed: the same distinctive yellow funnel with the blue "C" that for over 60 years has graced every vessel in the fleet of Costa Cruises. Since the establishment of the brand in the 1940s, some 35 ships have sported the iconic Costa funnel. Like the other 14 members of the fleet currently in service, the Costa Favolosa will fly the Italian flag.

The Costa Favolosa (114,500 gross tonnage and 3,780 total Guests) will enter service in summer 2011. She will be the first of two sister ships set to join the Costa fleet by 2012. The Costa Fascinosa, the sister ship of the Costa Favolosa and like her built in Marghera, is scheduled for delivery in spring 2012.

Costa's fleet expansion program, with five new ships due for delivery between 2009 and 2012, is the largest of its kind in the world. The Costa Luminosa and Costa Pacifica were delivered in 2009, while the Costa Deliziosa joined the fleet earlier this year. The addition of the two sister ships Costa Favolosa and Costa Fascinosa will complete the expansion of the Costa fleet, Europe's biggest, which by 2012 will be 16-strong with accommodation for 45,000 total Guests. All five of these ships are built in Italy by Fincantieri, each one with the labor of around 3,000 people, comprising both Fincantieri's own employees and those of about 500 contracted suppliers, most of which are Italian firms. In overall terms, from 2000 to 2012 the fleet investment program by the Costa Crociere S.p.A. Group (comprising Costa Cruises as well as the German brand AIDA Cruises and Iberocruceros, which operates mainly for the Spanish- and Portuguese-speaking markets) is worth some $11.5b.

The Costa Favolosa is set to make her debut on a three-day premiere cruise departing from Venice on July 4, 2011, and calling at Dubrovnik and Koper. This will be followed by her grand inaugural cruise, which leaves Venice on July 7: a 10-day itinerary taking in Israel, Greece and Turkey with stopovers in Bari, Corfu (Greece), Haifa (Israel), Izmir (Turkey) and Dubrovnik (Croatia). Throughout the 2011 summer season the Costa Favolosa will be offering 7-day cruises from Venice and Bari to Turkey (Istanbul and Izmir), Greece (Olympia) and Croatia (Dubrovnik).