GAC Mersey Installs UK Offshore Platform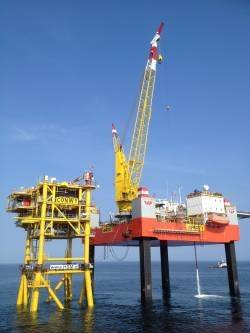 GAC Shipping UK completes the successful installation of the Conwy platform 40 miles off the port of Liverpool in good time
The successful installation was completed only two months after a tug carrying the rig's jacket and topside - each weighing in at over 700 MT - set off from Rotterdam.
GAC's Liverpool office was appointed by Dutch heavy civil engineering company HSM Offshore BV to provide an integrated package of support services to construct and hook-up the platform.
The journey from the Netherlands took two and a half weeks due to bad weather resulting in ships having to seek shelter in Plymouth and Falmouth. The rig's components were eventually discharged at Seaforth Docks for modifications before being towed to the rig site around SEAFOX 1 so that construction could start.
Stephen Deakin at GAC Liverpool says that in addition to handling the ship agency for all the craft involved, his team was also involved in the procurement of plant and materials and arranging the construction of a quayside mattress to help spread the weight of the loads.
He adds: "It took an enormous amount of planning and coordination between the various parties involved - the client, engineers, pilots, the Harbour Master, a plethora of maritime experts, the crews of all the different craft and everyone involved in getting the HSM team out to the rig location to construct the Conwy platform."