TNKC Installs Security Doors on All Bulkers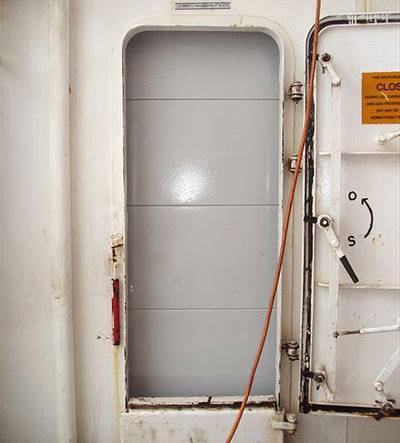 Intelligent Engineering (IE) has supplied TNKC (UK) Ltd with SPS Citadel Access Protection doors for all nine of the bulk carriers in their fleet, with the last set being delivered in late February 2015. The bulk carriers which operate in high risk areas are now fitted with this innovative system which delivers protection against maritime piracy.

Dimitar Dimitrov, Technical Superintendent, TNKC (UK) Ltd commented, "With minimal financial commitment, we have been able to achieve a safe haven for our crews - our most valuable asset. The system has been simple to install. The citadel compartment provides sufficent crew safety and allows enough time for shore anti-priacy units to perform a resuce operation before the vessel is captured. Once we found out about the SPS Citadel Access Protection doors, their installation was an obvious solution and I would recommend anyone operating a fleet in hostile waters to consider their installation."

IE's Business Development Manager, Ian Nash commented "The TNKC vessels are now fitted with a protection system which will prevent capture of the vessel and deter pirates from taking command of the vessel. In the event of a hostile boarding, the SPS Citadel Access Protection doors, will enable the crew to maintain control of the vessel. SPS doors provide six times the protection from impact loads, explosions and projectiles than equivalent steel and 75% more ballistic protection. We hope that we have supplied peace of mind to TNKC and to all those that work on-board."

"Over 75 vessels around the globe have been fitted with SPS doors. We have a fleet agreement with a leading oil and gas operator with these doors being routinely fitted to vessels that enter their fleet," he added.

The four or six SPS panels (depending on opening width) which make up the door can be deployed within 90 seconds. They can be easily be retrofitted to any vessel as the SPS system comprises just three items - a solid steel frame, SPS door panels and clamps. The frame is fully welded around the existing doorway and SPS panels are then secured against the frame using specially designed clamps. Once installed the SPS barrier is detail free which can withstand far higher impact loads than equivalent steel structures with superb protection against blast, ballistics and shrapnel.