Aveva: New Paper on Integrated Steelwork and 3D Plant Design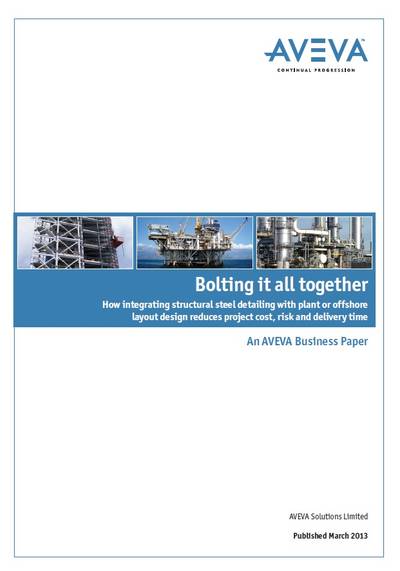 Paper highlights how integrating structural steelwork and plant layout design can reduce project cost, risk and delivery time

Aveva released 'Bolting it all together,' the latest in its series of business papers, which discusses how integrating structural steelwork and plant layout design can reduce project cost, risk and delivery time. The paper explores the considerable business advantage that EPCs and Shipbuilders, working on plant/offshore projects, can gain by using a specialized steelwork application that can be used efficiently within a plant design solution to support close, collaborative working through an entire design and construction project.

"Steelwork often accounts for a disproportionate level of project risk, rework, and overruns in cost and delivery," said Bruce Douglas, Senior Vice-President, EDS Strategy and Marketing, Aveva. "It is common industry practice to subcontract steel detailing and fabrication to specialized companies, with most plant design solutions not extending to the steelwork design/fabricate/construct workflow. Communication links are therefore stretched in a process that demands close collaboration, resulting in general project inefficiency that can lead to costly rework and program overruns."

The business paper demonstrates the need for EPCs and Shipbuilders to consider solutions that enable the development of steelwork design concurrently with the rest of the layout, in a common 3D model. Efficient parallel development enables the overall design to meet essential requirements such as ease of construction, accessibility, space constraints and operational safety.

Mr. Douglas added, "This capability overcomes one of the biggest risks in plant project execution. With such integration, EPCs and Shipbuilders working with plant and offshore projects, gain extensive productivity, capability and design coordination benefits, eliminating the risk of steelwork design diverging from the plant layout design. They achieve maximum design consistency and can create the high-quality deliverables necessary for accurate, right-first-time steel fabrication and construction."

The business paper follows AVEVA's acquisition in May 2012 of bocad, the structural steel detailing software.

Aveva Bocad Steel is a software solution for structural design and fabrication, serving EPC, Shipbuilders and steelwork fabrication companies with specialised solutions for both onshore and offshore construction. Together with Aveva PDMS and Aveva Outfitting Aveva's 3D design software, it provides a collaborative working environment for the entire plant and ship design and construction project.

The business paper is available to download from www.aveva.com/boltingtogether.