China to Intensify Patrols to Protect Disputed Maritime Assets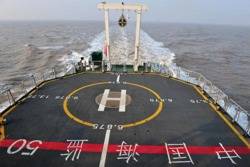 Chinese patrol boats keep an eye on disputed oil-rich Diaoyu Island waters
A Chinese marine patrol has recently finished its third mission to crack down on illegal exploration of oil and gas in the South China Sea. China will further intensify regular patrols of its sea territory to protect the country's maritime interests and rights according to a senior maritime official. "The patrols are part of our long-term, important responsibility," said Wu Ping, deputy head of China Marine Surveillance (CMS), a government agency in charge of maritime law enforcement.
The comments came after the country's two patrol ships recently made successful trips to the Diaoyu Islands which lie about 356 kilometers from the city of Wenzhou in coastal Zhejiang province in east China.
Maritime officials described the latest patrol of the Diaoyu Islands as "very important" as it reinforced Beijing's consistent claim that "the Diaoyu Islands and adjacent islets have been part of the inherent Chinese territory since ancient times," said Zhang Huirong, another CMS official.The fleet sent to the Diaoyu Islands included the 3,000-ton-class Haijian 50, the country's largest patrol ship equipped with the most advanced marine technology and helicopter-carrying capacity.
China has 32,000 km of coastline. The total area of its territorial seawater, continental shelf and exclusive economic zone, which is recognized under the United Nations Convention on the Law of the Sea, is 3 million square km.