Dept. of Interior, Moose Boats Contract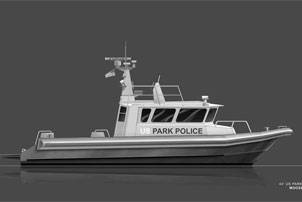 Moose Boats, an aluminum boat manufacturer, has been awarded a contract from US Department of the Interior – US Park Police, for a M1-44 Patrol Boat. This is a 44-ft all aluminum catamaran powered by twin 600hp Cummins diesel engines coupled with twin Hamilton 322 water-jets. This vessel is designed to attain a top speed of 40 knots, cruise at approximately 30 knots and will be used for security patrol of the Statue of Liberty and Ellis Island. The Marine Patrol Unit acquired a 32-ft aluminum Cat from Moose Boats in the spring of 2003 and it has been in service in Jamaica Bay ever since. The 44-ft Vessel will replace a 41' aluminum Patrol boat that was donated by the USCG in 2002.

The new vessel will be stationed at the Statue of Liberty, tasked with enforcing the security zones around Liberty and Ellis Islands, providing VIP escorts, transportation of officers and search and rescue in the lower NY Harbor. The Moose Boat design has been chosen by numerous law-enforcement and security agencies because of its fast and stable catamaran hull coupled with water jet propulsion, which is well suited to meet mission requirements.

Specifications:
Length, o.a. 43.6 ft
Engines Twin 600hp Cummins QSC 8.3LTR
Length, w.l. 36 ft
Propulsion Hamilton HJ 322 Water Jets
Hull beam 16 ft
Marine gear Twin Disc- MG 5075
Displacement 30,000 lbs. (dry)
Equipment Furuno Electronics
Fuel capacity 480 gal SPI InfraRed Camera
Dead rise (Aft) 15º 9 kw Northern Lights Generator
Draft 262.2 ft
Maneuvering Hamilton BlueArrow – (Fly-by-Wire)
Max speed 40 knots
Cruise speed 30 knots
Range Over 300 nm
Application
This M1-44 will function as 40-knot Harbor Patrol Boat in New York Harbor NY providing maritime safety, port security as well as environmental response and protection. This M1-44 is equipped with twin Cummins turbo-diesel QSC engines coupled with Hamilton 322 water jets.