New Intermodal Rail Service from PortMiami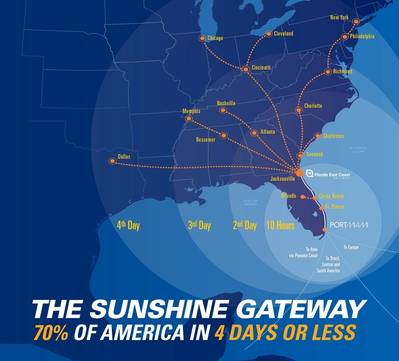 Florida East Coast Railway (FECR) and PortMiami, through a strategic alliance, are offering the Sunshine Gateway service, which includes on-dock intermodal rail capabilities. This seamless ship to rail transfer allows the port to handle additional volumes and ensures that shipments move more quickly and efficiently with the potential to reach 70 percent of the United States population in four days or less.

"Our goal has always been to facilitate the process of cargo shipments for fast and efficient delivery to our customers," said Juan M. Kuryla, PortMiami Director. "Through our partnership with FECR, we are expanding access for shipments coming into and out of the port to reach their final destinations seamlessly and with greater reliability."

Another step has been the PortMiami -50 ft. deep dredge project enabling the port to handle larger TEU vessels. Kuryla stated, "Our investments in infrastructure and collaboration with innovative providers like FECR, ensure that we are well positioned for the Panama Canal expansion."

President and CEO James R. Hertwig noted, "In today's global marketplace, shippers often need solutions that go beyond the United States borders and involve multiple modes to move goods from the point of origin to the final destination. In order to meet the needs of supply chain managers, it is important for various modes of transportation to work together seamlessly. We are pleased with the positive impact we have seen as a result of our partnership with PortMiami and look forward to continuing to provide effective solutions for shippers."

In January 2015, FECR and PortMiami will hold an event celebrating this new service.