Marcon International, Inc. Announces Sale of a 180' Supply Boat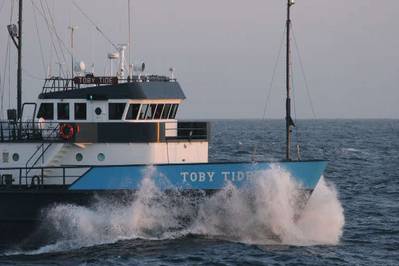 Marcon International, Inc. of Coupeville, Washington has announced the sale of a 180' supply boat to West Coast buyers.

Twenty Grand Marine Service, L.L.C. of New Orleans, Louisiana has sold their U.S. flag supply vessel "Toby Tide" to Ocean Marine Services, Inc. of Kirkland, Washington.

The ABS +A1 (E) +AMS classed, 180' x 40' x 14' supply vessel was built in 1980 by Halter Marine in New Orleans. She is powered by a pair of CAT D399TA diesel engines producing a total of 2,250HP, turning 76" x 70" props through Reintjes WAV 1400 gears. This generates a max speed of 12kn and cruising speed of 10kn. Maneuverability is enhanced by a 300 HP Murray Tregurtha BT340 bow thruster. Ship's power is supplied by a pair of 125kW, 450vAC, 60Hz generators powered GM8V71 diesels.

The 993.8dwt "Toby Tide's" capacities include 94,300g fuel, 24,400g potable water, 180,400g drill water, 4,000ft3 dry bulk in 4 tanks, 1,230BBL liquid mud and 640 long tons of deck cargo on her 111' x 30' clear aft deck. Air conditioned accommodations are provided for a crew of 20 in eight cabins with galley seating for 10 people.

This is the 20th vessels to date which Marcon has sold from Sellers, with 8 going to West coast operators. Over the years, Marcon has concluded sales of four OSVs and one 40,000bbl ocean tank barge to the buyers. Upon "Toby Tide's" arrival from Port Hueneme to Seattle, she was promptly drydocked in preparation to start working in Alaska. The vessel is being renamed "Sovereign", after the first 3,900BHP, 185' AHTS which Marcon sold to these owners from Offshore Logistics, Inc. twenty-two years ago.

Marcon International, Inc. acted as sole broker in this transaction.

Marcon has brokered a total of brokered 25 sales and charters to-date this year. Several additional sales are pending and expected to close within the next couple of weeks.