Irish Ferries Wins International Marketing Award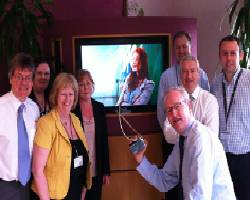 Irish Ferries has added to its tally of top awards by winning the prestigious International Marketing Award at the All Ireland Marketing Awards which were presented recently.

Irish Ferries won the award for its 'It's everything you go for' campaign created to develop the company's market in Britain. Sponsored by O2, it was presented to the company's marketing manager Daragh O'Reilly at a gala awards ceremony held in the Burlington Hotel recently.

In their citation, the jury praised Irish Ferries for the messaging of the campaign which, they said, 'reflected a distinctly Irish heritage in a modern environment.' In terms of its impact, the jury noted that their marketing campaign helped Irish Ferries to reverse the trend in a declining travel market in 2010.

This is the third major award won by Irish Ferries this year. Against tough competition from all of the UK and Continental ferry companies operating into and out of Ireland, the company recently took the 'best ferry' title at two separate awards ceremonies held in Dublin - one sponsored by Irish Travel Trade News and the other by the Irish Travel Agents Association.
Source: http://www.irishferries.com