A Milestone for N-KOM and Intersleek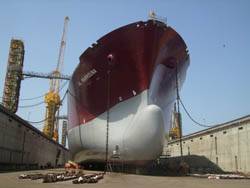 September 2011 witnessed a milestone for International Paint and N-KOM, the Nakilat-Keppel Offshore & Marine Limited, Erhama Bin
Jaber Al Jalahma Shipyard
, with the coating of three LNG vessels marking the application of 10,000 liters of Intersleek foul release technology at the new Qatar facility in less than four months since opening.
The Al Marrouna and Al Areesh, 151,700 cu. m. sister ships operated and managed by Teekay Marine Management and the 137,354 cu. m. Doha, which is owned by a Japanese consortium led by
Nippon Yusen Kaisha
(NYK Line) and managed by NYK LNG Shipmanagement Ltd., were all repaired with the Intersleek700 system within four weeks, completing the projects ahead of schedule, with the time savings afforded by the foul release system a key factor.
The Al Marrouna and Al Areesh, coated with the Intersleek700 scheme at newbuilding in October 2006 and January 2007 respectively, needed only one full coat at this latest docking – a clear demonstration of how Intersleek can significantly reduce time in drydock and deliver through life cost savings. Significantly, the repair requirement is even less for vessels undergoing interim dockings. For example, no full coats were required for Doha, whose previous drydocking took place in June 2009.
With over 1,500 vessels, including 100 LNG vessels, coated with Intersleek® since 1999, many shipyards have benefited from foul release technology. Benefits can include reduced application time and faster vessel turnaround plus a reduction in solvent emissions, a reduction in waste packaging and no biocide release into the local marine environment.