Introducing MEISTer Disaster Recovery Support Robot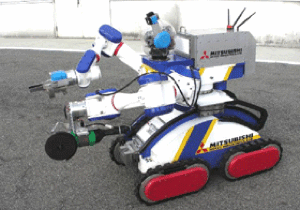 Mitsubishi Heavy Industries (MHI) prototype has two arms to assist in recovery work after disasters or severe accidents.

MEISTeR (Maintenance Equipment Integrated System of Telecontrol Robot) can light-duty tasks in areas inaccessible by humans. By changing its arms' attachment tools, the robot can perform various tasks such as carrying objects, drilling and opening/closing of valves. Going forward MHI will strive for further improvements and explore demand for broad applications of the robot in crisis management.

The MEISTeR was developed based on the RaBOT (Radiation-proof Robot) delivered by MHI to the Japan Atomic Energy Agency (Japan Atomic Energy Research Institute at that time) as one of several nuclear hazard response robots developed in the wake of the accident at the nuclear fuel processing facility in Tokai-mura, Ibaraki, in 1999. MHI incorporated further improvements into the MARS-D, the RaBOT's sister robot, leveraging technology cultivated in the development of inspection and information gathering robots for the nuclear power facility.

The MEISTeR's arms can perform free movements similar to those of human arms using its 7-axis control system, and various tools can be attached to the arm ends according to the work required. By attaching different tools to each arm, the robot can undertake two different tasks simultaneously: for example, grasp an object with one arm while performing another task, such as cutting, with the other. Each arm can carry objects weighing up to 15kg.



Besides its disaster support functions involving monitoring, inspection, and collection of information and samples, the MEISTeR's versatility also enables such varied tasks as moving of obstacles, decontaminating walls and floors, cutting guardrails and pipes, and light repair work.