Kizad Attracts Investment from Binghatti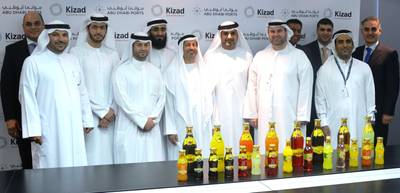 Abu Dhabi Ports signs SMA with Binghatti to set up food and beverage production plant catering to MENA market
Abu Dhabi Ports―the master developer, operator and manager of ports and industrial zones in the Emirate―has signed a standard Musataha agreement (SMA) with Binghatti Holding to set up a new food and beverage (F&B) production plant at Khalifa Industrial Zone Abu Dhabi (Kizad). Binghatti is an international investment holding company that focuses on high-growth potential projects within the real estate, construction and FMCG (fast-moving consumer goods) industries.
The new facility in Kizad will cater to the F&B industry in the Middle East and North Africa (MENA) region, supported by Binghatti's own FMCG distribution companies in the UAE, Lebanon, Jordan, Iraq and London. The company known for the brand of RAUBI juices will invest an initial AED 150 million in the project with a plot size of 42,883 square meters, under the SMA with Abu Dhabi Ports.
The new facility at Kizad will be under the name of Black Forest Food Industries LLC, a branch of Binghatti's sister company in London.
The F&B products from Binghatti's proposed plant in Kizad will be distributed in the UAE and exported via Khalifa Port to countries across the MENA region with future plans to expand their distribution to
Europe
and the Far East.