GPA Involved with T-AGOR-27 Contract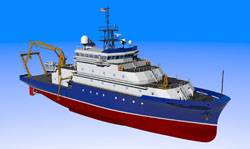 In October 2011, the Seattle-based Naval Architecture and Marine Engineering firm Guido Perla & Associates, Inc. (GPA) was awarded a contract to deliver the Regulatory Design and Detail/Production Design for the T-AGOR-27 Ocean Class Research Vessel. The basic design was developed by GPA during a NAVSEA sponsored design competition while under contract with Dakota Creek Industries (DCI) and partnered with leading marine industry equipment vendors. The Navy-owned vessel will be operated by the Woods Hole Oceanographic Institution of Massachusetts. A second vessel may be awarded at a later date. GPA will support DCI, a shipyard in Anacortes, WA, near Seattle, throughout the construction and delivery of the vessel. GPA and DCI share a history of successful projects, granting a solid foundation for the development and construction of the T-AGOR-27.
To win this award, GPA was hired by Dakota Creek Industries to provide a basic design during the Phase I NAVSEA design competition. This phase required development of an original design of the vessel including hull form, structure, arrangements and systems, and integration of equipment from vendors throughout the marine industry to meet a demanding government specification and limited budget. GPA's unique hull form was optimized for sonar operations and fuel efficiency and was model tested during this phase to verify conformation with Navy requirements. This year long process involved multiple design reviews to U.S. Navy and other government organizations and some ABS regulatory review. GPA also worked closely with DCI to ensure that production methods were taken into account early in the design process. GPA maintains a successful track record providing engineering expertise to complex design projects, both commercial and private, matching the needs and vision of the operator with the engineering realities of the industry.
The T-AGOR-27, an advanced oceanographic research vessel, will have the capability of carrying sufficient supplies and support systems to stay at sea for up to 40 days, covering up to 10,000 nautical miles and withstanding high sea and wind conditions. These capabilities, combined with the ability to operate 75% of the time during the Pacific Northwest and North Atlantic's winter months and powerful ocean exploration equipment and instrumentation, will provide for superior operations. The highly developed equipment includes:
•
A multibeam seafloor mapping system for deep and shallow water
•
A sub-bottom profiler to map sediments below the seafloor
•
An acoustic doppler current profiler to map currents throughout the water column
•
Precise navigation tools for tracking instruments in the water beneath the ship
•
An array of networked sensors to measure atmospheric and ocean properties.
The total variable science load, in part stored in up to 2,000 sq. ft. of internal labs and facilities, is 100-200 long tons. These facilities will include a wide variety of lab types with reconfigurable benches, cabinetry and special electrical requirements, storage for hazardous materials, repair facilities for equipment and systems providing uncontaminated seawater. Besides the indoor facilities, the scientists require a 2,000 sq. ft. working area in the stern up top that can handle a range of temporary equipment, 80 sq. ft. of clear deck area alongside one rail, as well as a range of recovery equipment, including winches, wires, cranes, frames, booms and others. Other deck areas will be used to handle incubators, vans, workboats and other temporary equipment.
Acoustic characteristics of the vessel are another important factor in this project due to sensitive instrumentation and experiments, as well as modern crew comfort requirements. The vessel was designed to meet all Navy noise and vibration requirements through a careful analysis of equipment selection and location, as well as noise insulation treatments. Emphasis was also placed on the vessel's ability to operate in rough weather for extended periods of time in a safe and efficient manner. This required GPA to integrate many different systems for remote and automated controls. Major systems include:
•
Integrated Diesel-Electric Plant Design with ABS ACCU notation
•
Dynamic Positioning capabilities and precise vessel maneuvering requirements
•
State of the art deck handling systems with high levels of remote operation capability.
The T-AGOR-27 is scheduled for delivery in late 2014.