Jaenichen Nominated to be Permanent Marad Chief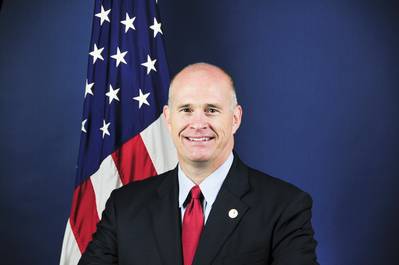 This week, President Obama announced his intent to nominate Captain Paul Nathan Jaenichen, Sr., USN (Ret) as Administrator of the Maritime Administration, Department of Transportation. Jaenichen has been Acting Administrator since David Matsuda's departure. Jaenichen's CV/BIO is as follows:

Captain Paul Nathan Jaenichen, Sr., USN (Ret), currently serves as the Acting Administrator and as the Deputy Administrator of the Maritime Administration (MARAD) at the Department of Transportation. Captain Jaenichen was a career naval officer, retiring after serving 30 years as a nuclear trained Submarine Officer in the United States Navy. His final assignment was Deputy Chief of Legislative Affairs for the Department of the Navy from 2010 to 2012. At sea, Captain Jaenichen served as Commanding Officer of the USS Albany from 1999 to 2002 and Commander of Submarine Squadron ELEVEN in San Diego, California from 2007 to 2008. Ashore, he served as Director of the Submarine/Nuclear Officer Distribution at Navy Personnel Command from 2008 to 2010; Chief of the Western/Eastern Europe and North Atlantic Treaty Organization Divisions on the Strategic Plans and Policy Joint Staff from 2005 to 2007; Executive Assistant to the Director of the Submarine Warfare Division from 2004 to 2005; and Senior Member of the Atlantic Fleet Nuclear Propulsion Examination Board from 2002 to 2004. He received a B.S. from the U.S. Naval Academy in Ocean Engineering and a M.S. from Old Dominion University in Engineering Management.