Japan's Hybrid Ship for Hybrid Cars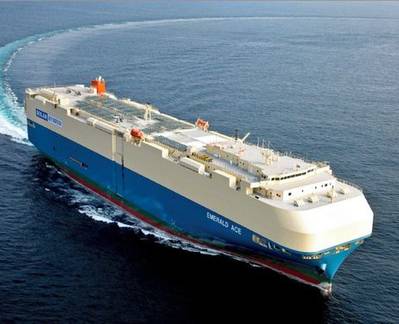 'Emerald Ace' a 60,200 grt diesel-engined car carrier with solar panels is shown off at Mitsubishi's Kobe Shipyard & Ironworks
The ship is expected to cut carbon dioxide emissions by 4 percent on a two-month voyage to Europe, officials said.
The 199-meter-long vessel can carry 6,400 passenger cars. The 768 solar power panels installed on its deck have an output capacity of 160 kilowatts, enough to power 50 average households.
Energy is stored in 324,000 lithium-ion batteries below decks and fed through to the engine. Excess energy is used to power the ship's radar instruments, lighting, air conditioning and other equipment.
The Emerald Ace shuts down its diesel engine and relies totally on batteries when in port. It is the first ship in the world to produce zero emissions while not at sea, according to shipowner Mitsui O.S.K. Lines Ltd.
Panasonic Corp. developed the system that integrates the solar panels with the ship's batteries.