First Lady Signs-in at Submarine Keel-laying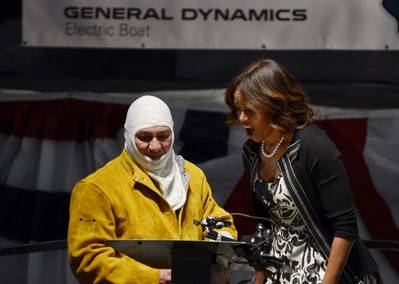 First Lady Michelle Obama's initials were welded onto a metal plate as Sailors from Pre-Commissioning Unit (PCU) Illinois (SSN 786) looked on during a keel-laying ceremony for the new Virginia-class submarine.
The First Lady joined Navy leaders, shipyard personnel and crew families in celebrating the ongoing construction of the Navy's 13th Virginia-class submarine during an event at the Quonset Point facility of the shipbuilders General Dynamics Electric Boat.


Three-quarters of the ship's construction is complete, said Adm. John Richardson, the Naval Nuclear Propulsion Program director. 



Secretary of the Navy Ray Mabus also participated in the event and served as the keynote speaker.

 "This vessel whose keel we lay today will be the most advanced ship in the world, its technology absolutely unmatched," said Mabus.

He also named Michelle Obama as the ship's sponsor. The metal plate with the First Lady's initials will later be mounted on the submarine, in keeping with Navy tradition.



"I am honored and humbled to be putting my initials to this new submarine with an exceptional crew like this one," said Obama. 

"I am here today, not just as a representative of my family but, as a representative of a grateful nation," Obama continued. "I am going to do my very best to honor your service by being a really good sponsor."


Illinois will become the Navy's second vessel to bear the name of the First Lady's home state once commissioned.



The pre-commissioning unit currently includes a crew of more than 100 Sailors, with others scheduled to arrive through the summer. By August, leaders expect the crew to reach its full strength of about 140 officers and enlisted personnel.


As the crew trains ashore, construction personnel from both Electric Boat and Newport News Shipbuilding in Virginia will continue to assemble the $2.7-billion vessel.