Kitsap Transits Adds Two Fast Ferries to Service Seattle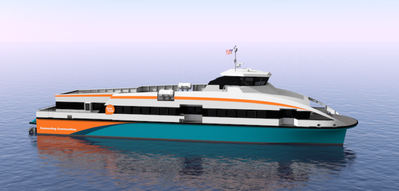 Kitsap Transit's early test of a passenger-only ferry service between Bremerton and Seattle has proved successful enough that the agency is adding two new fast ferries to its fleet.

The passenger-only ships will expand the marine highway being developed to help ease congestion in the Puget Sound area. Nichols Brothers Boat Builders of Freeland, Washington, was hired to build the two ferries, with an option to build a third ship.
Each of the 140-foot-long aluminum catamarans are powered by two MTU 16V4000 M65L engines and two Rolls-Royce S71 water jets, all being provided by Pacific Power Group. The propulsion systems will also feature a Selective Catalytic Reduction exhaust aftertreatment system, which captures the engine's exhaust and transforms it into a harmless mix of nitrogen, oxygen and water. The SCR helps the ferries meet Tier 4 regulations.
"Our team worked closely with Nichols Brothers to engineer the SCR into the vessel's design to maximize its effectiveness while providing the greatest environmental benefits," said Doug Schwedland, PPG's vice president of the marine division.
PPG will work closely with MTU during the field test process to gather data and maximize the efficiency of each engine. This is a similar process PPG and MTU follow for the operation and maintenance of engines used throughout a ferry fleet in the San Francisco Bay Area.
Kitsap Transit's ferries will each carry up to 250 passengers and 26 bicycles, with a top speed of 37 knots and a cruise speed of 35 knots at full load.
Voters in Kitsap County, which sits west from Seattle across the Sound, approved funding for the passenger-only fast ferries at a time when the area's population is booming. Residents want a faster connection to the city. The funding will allow Kitsap Transit to add routes between Kingston and downtown Seattle and Southworth and downtown Seattle in 2020.