KML Plays Key Role in Rescue of Stricken Russian Ship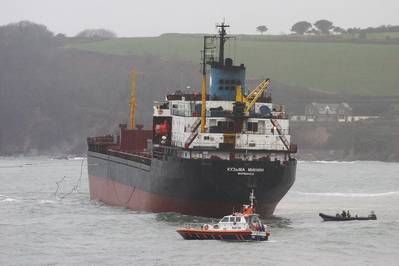 Marine contractors, Keynvor Morlift (KML), played a significant role on Tuesday in saving the Russian ship, 'Kuzma Minin', which ran aground just off Gyllyngvase Beach in Falmouth.
KML's large all weather commercial Rigid Inflatable Boat (RIB), was the 1st vessel alongside after the ship ran aground at around 0500 on Tuesday morning. The RIB was mobilized with team members from both KML and Seawide Services. KML's multicat 'Sarah Grey', together with KML heavy anchors, ground tackle and salvage equipment, was also emergency mobilized from KML's own Falmouth Wharves.
With Southerly winds gusting to 60mph, breaking seas and shallow water presented significant hazards. Working through the surf lines in the RIB, KML and Seawide landed a salvage manager onboard the ship via a pilot ladder on the leeward side who took initial control of the situation, before collaborating with the Falmouth pilot once they had arrived by helicopter.
Throughout the morning, KML's team worked closely with Seawide Services, Falmouth Pilots, Falmouth Harbor tugs, Falmouth Harbor Commissioners and Falmouth's lifeboat in hostile conditions to develop a solution to rescue the casualty vessel. A rapid solution was of paramount importance to avoid serious damage and possible total loss of the ship and to avert the potential risk of spills of heavy fuel oil. Tugs were mobilized at speed from Falmouth Docks and Fowey, and KML's own 'Sarah Grey' proceeded to the scene equipped to tow or to lay heavy ground tackle.
KML's RIB worked for five hours delivering rope and connecting tow lines between the ship and tugs. Shortly after high water at 2pm, with all tugs and the 'Sarah Grey' towing at full power, and with the ship's main engines, were successful in pulling 'Kuzma Minin' off the shore before escorting her to safe anchorage.