Kongsberg Open 'Subsea Valley', Oslo, Office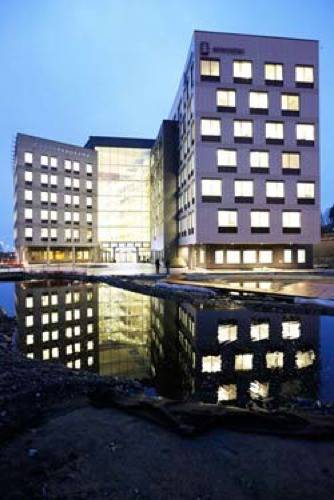 The company says it has installed 330 employees in a new building which will be the main headquarters for the Group's Oil & Gas business area in addition to accommodating some of the Group's defence activities.
According to the cluster organisation 'Subsea Valley', the area between Fornebu and Drammen currently includes some 200 enterprises that represent nearly 57 000 workplaces and roughly NOK 111 billion in sales. The cluster organisation estimates that it has a market share in excess of 70 per cent of the global market for subsea technology.

"Our operations in the Oslo area were previously divided on a number of different locations. Now we are gathering all of our employees in the region under the same roof, further improving our efficiency. At the same time, this relocation will help us continue on the steep growth we have seen in this business area since it was established in 2010", points out Pål Helsing, President of Kongsberg Maritime Oil & Gas Technologies.

"The choice of Asker was primarily motivated by the needs of our oil and gas operations. At the same time we wanted this building to serve as the base for our other activities in the Oslo and Akershus area, more specifically, our military communications operations that have been located at Billingstad and parts of our Protector development unit. Roughly 130 of those who moved to the new building in Asker are employed by Kongsberg Defence Communication and Kongsberg Protech Systems", adds Kongsberg's Chief Executive Officer Walter Qvam.