Korea-built Ro-Pax for Greece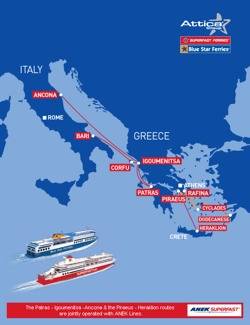 Daewoo Shipbuilding & Marine Engineering delivers Ro-Pax ship 'Blue Star Patmos' to Attica Group
Greek-flagged Blue Star Patmos, represents an investment of more than Euro 70 million, and is the second of two vessels ordered in June 2009 with an overall length 145.50 meters, a speed of 26 knots and the capacity to carry 2,000 passengers and 427 private vehicles or 60 freight units and 145 private vehicles.
In the current challenging times facing Greece, Attica's scope to provide first class sea transportation services with modern, new and fast ships for the benefit of tourism and the islands' inhabitants and visitors, is further enhanced with the addition to Attica's fleet by the delivery of the Blue Star Patmos.
The ferry's deployment is subject to the permission of the Greek regulatory authorities.