Cathelco MGPS for Latest Lamprell-built Jack-up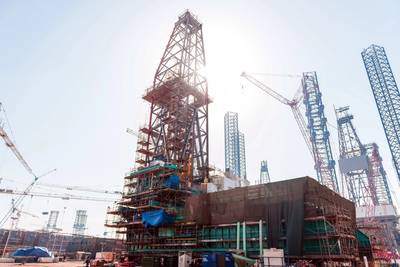 Cathelco will provide a marine growth prevention system (MGPS) for the latest in a series of jack-up drilling rigs to be built by Lamprell, the UAE based leading provider of fabrication, engineering and contracting services to the offshore and onshore oil and gas and renewable energy industries.

This will be the ninth MGPS to be supplied to Lamprell for jack-up rigs constructed at its Hamriyah facility.

The order was won by Cathelco Middle East FZC based in Sharjah which was set up in 2015 to provide sales and engineering support for customers throughout the region.

The first system supplied to Lamprell was installed in 2009, whilst the most recent was delivered in May 2015.

The latest rig, which will be completely outfitted and equipped by Lamprell, is a LeTourneau designed, self elevating mobile offshore drilling unit of the Super 116E (Enhanced) Class Design.

Cathelco marine growth prevention systems are designed to eliminate blockages caused by barnacles and mussels in seawater lines. The systems consist of copper and aluminium anodes which are wired to a control panel. In operation, the copper anodes produce ions which create an environment where barnacle and mussel larvae do not settle and grow. At the same time the aluminium anode produces ions which suppress corrosion on the internal surfaces of pipes.

On the latest rig, the Cathelco system will protect the lines from 3 pumps using anodes which are mounted directly into 10 inch diameter pipes using pipe upstands.

"In our experience jack-up rigs benefit from installations where the MGPS anodes are installed in pipe upstands, when a seachest is not available. By using this method the copper ions are drawn directly in the flow of seawater which maximizes their effectiveness. The ease of access is another important advantage enabling maintenance time to be reduced to a matter of minutes each year", said Carlo Soddu, who has been closely involved in the project at Cathelco.

Cathelco manufacturers of MGPS with a record of more than 50,000 installations on commercial vessels and offshore structures over a period of 50 years. The company also produce ICCP corrosion protection systems for jack-ups, semi-submersibles and offshore platforms.