Largest Cargo Ship Ever to Call at a US Port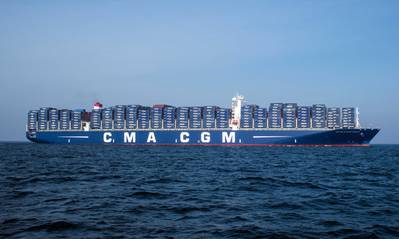 18,000-TEU container ship CMA CGM Benjamin Franklin will make its first U.S. call at the Port of Los Angeles in late December
The CMA CGM Benjamin Franklin, an 18,000-TEU vessel named in honor of one of the United States' founding fathers, will call at the port of Los Angeles on December 26, 2015, becoming the largest containership of this capacity ever to call at any port in the United States. The vessel will later call at the Port of Oakland on December, 31.
Jacques R. Saadé, Group Chairman and Chief Executive Officer, decided to deploy an 18,000-TEU capacity vessel to the U.S.: the Group will be the first carrier to call at a U.S. port with vessels of this size. With this call, CMA CGM is furthering its strategy of providing customers with the reach of a global network combined with the convenience of a personal service. It also reflects CMA CGM's faith in the long-term growth potential of the U.S. economy, and its commitment to increasing its U.S. market share.
The CMA CGM Group has been working closely with the Ports of Los Angeles and Oakland to ensure there is sufficient infrastructure to support an 18,000 TEU vessel. The group said it looks forward to working with other ports throughout the U.S. as they begin similar assessments of their infrastructure.
The CMA CGM Benjamin Franklin will be deployed on the Pearl River Express, a service connecting the main China ports, including Xiamen, Nansha and Yantian, with the U.S. West Coast ports. The vessel, built with state-of-the-art technology, was delivered on December 4, 2015.