Latest Corvette for UAE Navy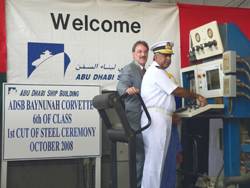 Production work has begun on the last of six Baynunah corvettes being built for the UAE Navy by in the region's largest-ever naval construction program.
The Commander of UAE Naval Forces, Rear Admiral Ahmed Al Sabab Al Tenaiji, activated a computerized plasma cutting machine at ADSB's Musaffah complex to begin cutting the steel for the sixth and final 72m vessel.
The Baynunah Class vessels are highly sophisticated multi-mission corvettes equipped with cutting-edge combat systems and have the capability to perform a wide range of military operations, including defense against both air and surface threats.
The vessel has been designed by the French company Constructions Mecaniques De Normandie (CMN). The first of class vessel is now being outfitted at CMN's.
Cherbourg Yard under sub-contract from ADSB and the remaining five are under construction at ADSB.
As well as starting the steel cutting for the sixth vessel, Admiral Al Tenaiji also performed the ceremonial keel laying of the fifth vessel.