Latest in Fleet of Tugs Heads to Panama Canal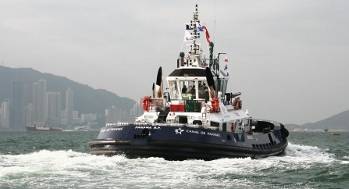 On December 4, the third in a fleet of 13 new tugboats purchased by the Panama Canal Authority (ACP) began making its way from Hong Kong to Panama. The Sixaola is expected to arrive at the Panama Canal in mid-February.

The new fleet of tugboats, which will all be named after rivers in Panama, were built by Cheoy Lee Shipyards, Ltd. in China. They are equipped with General Electric 12V 228 main engines, Twin Disc MCD 3000-8 HD clutches and Schottel SRP 1515 FP propulsion units.

These new units, that will assist ships transiting the waterway, have an award-winning design, superior components, stronger engines, better clutches and advanced propulsion systems. These tugboats have an output capacity of 5,844 horsepower and a bollard pull of more than 65 metric tons.

Once in Panama, the Sixaola will join the Calovebora and the Changuinola, two recently arrived tugs. The additional tugs are expected to be delivered every 45 days following the Sixaola.

As part of the completed Expansion Program, the ACP plans to have a total fleet of 46 tugs by 2014. These new tugboats will both augment the existing fleet and replace those with more than 35 years of service.

Expansion will build a new lane of traffic along the Panama Canal through the construction of a new set of locks, doubling the capacity and allowing for the transit of longer, wider ships.