New Cutter Dredger Launched for Jan De Nul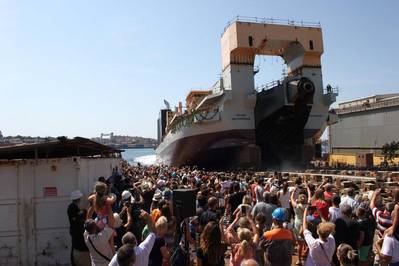 A newly built self-propelled cutter suction dredger, Willem van Rubroeck, was released into the sea at the Uljanik Shipyard in Croatia on August 28. The vessel is expected to be delivered to owner Jan De Nul Group in 2018.
The vessel is 151.3 m long, 36 m wide and can reach speeds up to 12 knots.
Willem van Rubroeck's installed power is 40,975 kW, making it the world's most powerful cutter dredger, according to
Jan De Nul Group
. It features two retractable thrusters with a total power of 6,000 kW and three dredging pumps with a total power of 25,500 kW, of which two located in the pump room and one in the cutter ladder.
This vessel will have a cutter power of 8,500kW and will be able to dredge compact sand, clay and rocks up to 45 m deep.
The operation, controlled from a central station, is almost completely automated.
The vessel will be able to accommodate 67 crew members.