Drifter Buoys Launched from Warship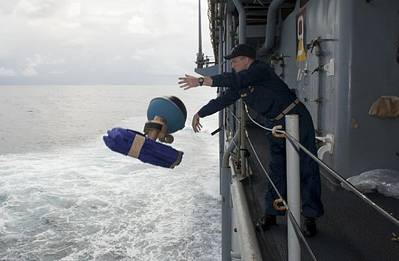 10 University of California, & Scripps Institute drifter buoys for meteorology & oceanographic observation released into the Pacific from 'USS Pearl Harbor'

The buoys measure ocean currents up to 15 meters in depth, and were launched during 'Pacific Partnership 2013' to measure sea surface temperatures and atmospheric pressure. All are important elements in creating an observation network, allowing for more accurate weather forecasts.

"The mission of Pacific Partnership is disaster relief preparedness," said Lt.j.g. Jeffrey S. Grabon, Pacific Partnership Mobile Environment Team division officer. "Most of the disasters that are going on in this region are from typhoons and tsunamis, so if we have observations that we can use to help forecast typhoons, that benefits the area."



The buoys were deployed at specific coordinates while USS Pearl Harbor transited the Pacific Ocean to Samoa, the first mission port of Pacific Partnership. 



"I think it is absolutely crucial we have the ability to engage with the U.S. Navy and work in a synergistic way to collect useful data and create deployment opportunities in regions that are hard to access with commercial and scientific vessels," said Luca Centurioni, scientist, Scripps physical oceanography research division. "We really welcome the opportunity to work together with the U.S. Navy 3rd Fleet. "


Pacific Partnership is about bringing people together. The collaboration of the University of California, San Diego Scripps Institute of Oceanography and the United States Navy demonstrates a cooperative approach to both disaster preparedness and prevention by working to understand the many variables that contribute to the long history of natural disasters that have earned the whole region the moniker, "The Pacific Ring of Fire."