New Lifeboat Handed Over to RNLI for Jubilee Year Pageant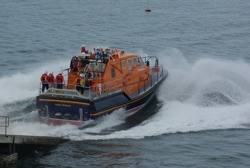 Babcock delivers Tamar-class lifeboat 'Diamond Jubilee' to RNLI in time for Queen's River Thames pageant
Babcock has handed over the latest Tamar Class lifeboat to the Royal National Lifeboat Institution (RNLI). This lifeboat will represent the charity during the Diamond Jubilee Pageant on the River Thames in June to mark Her Majesty The Queen's special year.
The RNLI Engineering and Supply Director David Brook and Operations Director Michael Vlasto attended the handover ceremony at Babcock's Devonport Royal Dockyard in Plymouth today. Together with Babcock Project Manager Steve O'Mara they took the vessel for a short trip around the Plymouth Sound and into the sea, demonstrating that the boat is operationally sound. This was followed by the official handover of the lifeboat.
Diamond Jubilee(named in honour of the RNLI's patron Her Majesty The Queen) will be stationed at Eastbourne and replace the 20-year-old Mersey class all-weather lifeboat currently in operation.
Diamond Jubileeis the 23 Tamar class all-weather lifeboat fitted out and brought to operational readiness by Babcock. The company has four lifeboats in different fit-out phases at any one time, and delivers an operational lifeboat to the RNLI every three months. A further four vessels will follow under the current contract, with a total of 27 delivered by 2013.
The vessels are constructed in two parts by RNLI SAR Composites in Lymington Hampshire using strong, lightweight composite materials and advanced manufacturing techniques. The hull and deck and superstructure are delivered to Babcock's Devonport facility where the vessel is given its livery and distinctive colour scheme.
All the mechanical, electrical and constructive ship's systems are then assembled and installed by Babcock in the 'fit-out' stage, followed by a five week trial phase during which the lifeboat is set to work, tested, and fully put through its paces. Every fourth lifeboat is put through a self-righting trial.