China Shipyard Naming of Vroon Livestock Carriers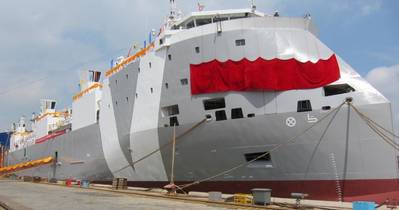 Specilaist livestock carriers 'MV Galloway Express' and 'MV Ganado Express' have been named at the COSCO Shipyard in Guandong, China.
These livestock carriers are the first two in a newbuilding programme of four next‑generation livestock vessels, being built for Vroon in Guangdong. The vessels have a cargo capacity of approximately 4,500 sqm and a cruising range of around 18,000 NM. They are fitted with animal-welfare facilities exceeding Australian (AMSA) regulations and incorporate a revolutionary bow that will ensure fuel savings while maintaining high speeds and maximum comfort for cargo and crew.

Three vessels are scheduled for delivery to the company later this year, with the fourth vessel due early in 2014.

Galloway Express was christened by Miss Carla Rech, Executive Assistant at Elders International Australia Ltd., and Ganado Express by Mrs Mary Lee Trivett, wife of Mr Richard Trivett, Director Austrex Pty Ltd.