LNG Power for VW Car Carriers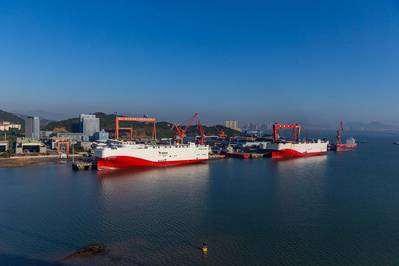 Siem PCTCs sport MAN ES engines, turbochargers and propellers -- Each ship is estimated to cut CO2 emissions by up to 25%, NOx by up to 30%, particulate matter by up to 60%, and SOx almost completely.
Siem Confucius and Siem Aristotle are the names of the new pure car truck carriers (PCTCs), significant in that they are the world's first trans-Atlantic PCTCs to operate full-time on LNG. Built for Siem Car Carriers at Xiamen Shipyard in China, both ships – which will transport cars for the VW Group between Europe and China – are powered by an identical MAN Energy Solutions' propulsion solution.
Each ship features individual MAN B&W S60ME-GI (-Gas Injection) dual-fuel, two-stroke engines that deliver 12,600 kW with direct injection and exhaust-gas treatment to further reduce emissions. Each main engine is accompanied by 2 × 9L28/32DF + 1 × 7L28/32DF dual-fuel auxiliary engines. In addition, bothships are driven by a four-blade, 6.95-m diameter MAN Alpha Kappel design fixed pitch propeller. The propellers were produced by MAN's propeller licensee, Dalian Marine Propeller Co., Ltd., in China.
MAN reports that these are the very first L28/32DF units approved for Tier III operation without SCR (Selective Catalytic Reduction), as well as being the first such units to be built by Chinese licensee, CMP. In addition, these are the first 28/32DF engines to be built in a 7-cylinder variant. All gensets are turbocharged by individual MAN TCR 16 (for the 9L28/32DF units) or TCR 18 (for the 7L28/32DF units) turbochargers, with the entire set-up overseen by MAN's proprietary SaCoS engine-control system.
VW stores its vehicles at German port, Emmen, for transport to China. As the shipping of cars from one continent to the other contributes its fair share of emissions, VW – as one of the first OEMs – decided to significantly improve the environmental balance of its marine transport fleet by ordering the new car carriers.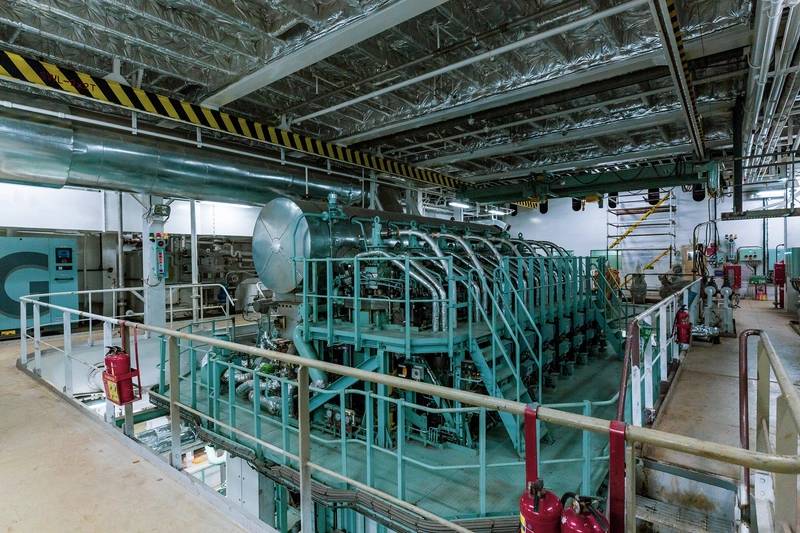 Both vessels have MAN B&W S60ME-GI (-Gas Injection) dual-fuel, two-stroke main engines that each deliver 12,600 kW with direct injection and exhaust-gas treatment to further reduce emissions. Photo: MAN ES"We are entering a new field here to reduce emissions. Both ships are the first overseas car freighters in the world to be LNG-powered," said Thomas Zernechel, Head of Group Logistics, VW. "In addition to the increasing use of LNG trucks, conversion of our many rail transports to green electricity and the use of biofuel in the short sea segment, the two new LNG ships represent an important building block for our strategic goal of climate-neutral logistics."Both ships are designed to carry 4,700 vehicles. Both are equipped with a 2 × 1,800 cu. m. LNG tanks installed below deck to fuel the MAN B&W ME-GI main drivers. The vessels are replacing two of nine conventional PCTCs in Siem's fleet. Each ship is estimated to cut CO2 emissions by up to 25%, NOx by up to 30%, particulate matter by up to 60%, and SOx almost completely.

PCTC Main Particulars
Operator: Siem Car Carriers AS
Length: 200 m
Width: 38 m
Capacity: 4,700 vehicles (7,700 CEU)
Number of decks: 13
Engines: LNG-powered dual-fuel MAN B&W S60ME-GI main; 2 × 9L28/32DF + 1 × 7L28/32DF dual-fuel auxiliaries
LNG tank volume: 2 × 1,800 = 3,600 cu. m. total
Average speed: 16.5 (eco mode)/19 (max.) knots