LNG Trade to Grow by 11% in 2018 -Clarksons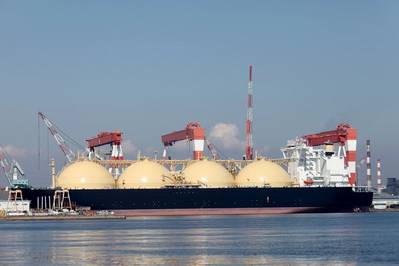 The liquefied natural gas (LNG) trade is expected to achieve further growth of 11 percent for 2018, according to a recent report from Clarksons Research. The forecast comes on the heels 2017's 9 percent growth to 929mt. By comparison, the LNG trade averaged 0.3 percent growth from 2012 to 2015.
"Global trade in LNG has moved into a strong growth phase, with a 9 percent increase in 2017 expected to be followed by further growth of 11 percent in 2018," said Steve Gordon, Managing Director of Clarksons Research. "With 85mt of export capacity under construction and a further 169mt of export capacity with FEED underway, further positive trade growth is expected."
The LNG trade represents 11 percent of global gas demand and 35 percent of global gas trade, up from 6 percent and 26 percent respectively in 2000, according to the Clarksons Research LNG Trade & Transport 2018 report. There were 275 individual country-to-country LNG trade routes in 2017, compared to 168 in 2012 and 90 in 2007.
Australia and the U.S. are among the trade's fastest growing exporters. Australian exports accounted for 48 percent of 2017 growth, with U.S. exports quadrupling to 12.2 mt.
On the other side, China accounting for half of all trade growth with 42 percent import growth to 39mt in 2017.
The LNG carrier fleet grew by 6 percent in 2017 in capacity terms to reach 531 vessels of 78.3m cbm, with expansion of 11 percent projected in full year 2018 and 8 percent in 2019. The LNG carrier orderbook totaled 110 vessels of 17.3m cbm and $22 billion by mid-2018, equivalent to 22 percent of fleet capacity. South Korea possesses 70 percent of the orderbook market share by cbm, followed by Japan (21 percent) and China (9 percent). Recent newbuild orders have taken the total for the year to date to 35 orders of $6 billion.
Short-term charter market conditions are also improving, with rates for a 160,000cbm vessel averaging $61,692/day in 1H 2018, up 64 percent y-o-y.
The market is finding increased use for floating storage regasification units (FSRU), with 37 percent of import capacity under construction expected to utilize FSRUs compared to 9 percent of existing regasification capacity. Floating liquefied natural gas (FLNG) projects are also expected to progress to in the short-term, with the potential for further growth.