Wärtsilä to Power LNG-fuelled RoPax Ferry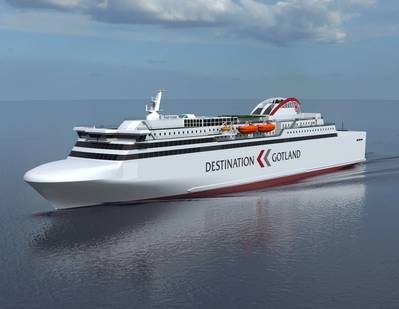 A new passenger ferry being built for Swedish operator Rederi AB Gotland will be fuelled by liquefied natural gas (LNG) and will feature a Wärtsilä integrated solution. The Wärtsilä integrated solution includes a complete LNG powered propulsion- and fuel storage and supply system, as well as comprehensive project services.This will be the first Swedish flagged LNG powered passenger vessel and the first LNG fuelled high speed RoPax ferry in the world. The vessel is being built at the Guangzhou Shipyard International (GSI) yard in China and when delivered, will sail between the Swedish mainland and the island of Gotland. GSI placed the contract with Wärtsilä in November.
By operating on LNG, the new 200-meter ferry will comply with the International Maritime Organization's (IMO) Tier III regulations regarding emissions of nitrogen oxides (NOx). Furthermore, it will meet the sulphur (SOx) emissions limitations required for operating in the Northern European sulphur emissions controlled areas (SECA), while emissions of particulates will also be reduced to virtually zero. In addition to its compliance with emissions legislation, the ferry will also meet the requirements of the IMO's recently agreed IGF Code regarding the safety of LNG fuelled ships.
"This vessel will have a minimal environmental footprint and we are proud to be working with Wärtsilä to make this possible. Wärtsilä's know-how and experience with gas fuelled vessels is unmatched in the industry," said Håkan Johansson, Managing Director of Rederi AB Gotland.
Wärtsilä and GSI have cooperated for many years on projects involving various types of vessels; however this is the first project between the companies involving an LNG-fuelled ship. It is expected that as LNG becomes increasingly accepted as a marine fuel, and given Wärtsilä's capabilities in LNG solutions, such cooperation will continue into the future.
In addition to the complete LNG-powered propulsion and fuel and storage system, the Wärtsilä integrated solution will include services relating to project management, integration engineering, on-site support and overall commissioning responsibility. Wärtsilä was selected for the supply of a significant portion of the ship's equipment, as well as project services.
Wärtsilä's scope of responsibility includes four Wärtsilä 50DF dual-fuel engines, two gearboxes, two controllable pitch propellers (CPPs) with remote control system, two Energopac rudders, two tunnel thrusters, four Wärtsilä 20DF dual-fuel auxiliary generating sets, two Wärtsilä LNGPac fuel gas handling systems, gas valve units, a compact silencer system (CSS), an IMO approved Wärtsilä Aquarius UV ballast water management system, an Oily Water Separator together with a Bilge Water Guard to monitor and prevent oily water being discharged to the sea, project management services, integration engineering services, commissioning services and on-site supervision during installation. Delivery of the Wärtsilä equipment will begin at the end of 2015 and the ship is scheduled to be in operation in 2017.
Wilco van der Linden, Director Business Development, Merchant Cruise and Ferry at Wärtsilä Solutions, said, "Together with Guangzhou Shipyard International in China and Danish designers OSK-Shiptech, we will realize the first of an entirely new generation of fast, yet environmentally sound RoPax ferries. Not only will Wärtsilä deliver the entire LNG fuel handling and power and propulsion system, we will also provide comprehensive project management services, such as integration engineering, on-site support and extended commissioning."
The ship will carry approximately 1,650 passengers, will have 1,750 trailer lane meters and can accommodate a corresponding number of passenger cars, campers and busses. It has been designed to meet the DNV-GL classification society's high comfort ratings for climate, noise and vibrations.
The LNGPac comprises onboard liquid natural gas bunkering, two storage tanks and handling equipment with related safety and automation systems. These systems have been developed and innovated by Wärtsilä. The solution also includes a patented cold recovery system, which utilizes the latent heat of LNG for the air conditioning systems. By reducing electrical consumption from the cooling compressors, the cold recovery system brings significant operational savings and overall increased vessel efficiency.