Good Lookout LNG Carrier Saves Lives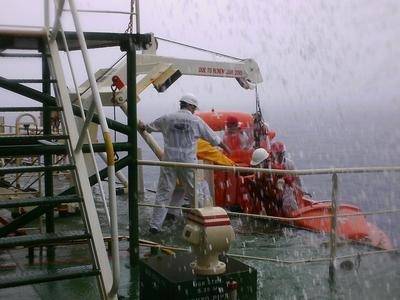 NYK LNG carrier 'Lusail' rescues fishermen from the sea off the coast of Sri Lanka.

Lusail was sailing from Ras Laffan, Qatar, to Yungan, Taiwan, when a crewman on deck spotted two fishermen in in the sea. The captain immediately directed the crew to initiate a rescue and even though visibility was poor because of heavy rain, the first fisherman was pulled from the water 30 minutes later.

Later a second fisherman was safety taken from the water by another vessel that had responded to Lusail's call for assistance in the rescue.

In accordance with instructions from Sri Lanka's Maritime Rescue Coordination Centre, both fishermen were eventually transferred to a Sri Lankan Navy ship and are in good health.

About LNG Carrier Lusail:

Captain: Miro Vuletic
Flag: Bahamas
Crew: 28 (including the captain) from Croatia and the Philippines
Gross tonnage: 95,824 tons
Type of vessel: LNG carrier
Shipmanagement: NYK LNG Shipmanagement (UK) Ltd.