Repair Yard Chosen for Lysblink Seaways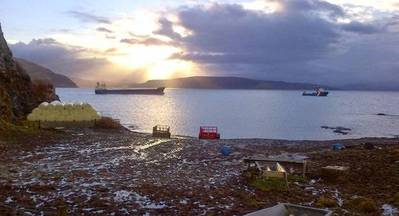 Cargo ship Lysblink Seaways will be towed to Inchgreen, Greenock for repair work after grounding last month on Scotland's west coast.
The vessel, which ran aground February 18, was refloated and taken to Scallastle Bay in the Sound of Mull where Svitzer Salvage has a team on board to prepare Lysblink Seaways for her tow to the repair facility.
According to the U.K Maritime and
Coastguard Agency
(MCA), a voyage passage plan is being finalized and, the tow may commence tomorrow, weather permitting.
The vessel will remain anchored until a decision is made by
Hugh Shaw
, the Secretary of State's representative Maritime Salvage and Intervention to allow her to move.
The Scottish Environment Group continues to monitor events and is supporting the work being done, MCA said.