66m Shadow Cat Launched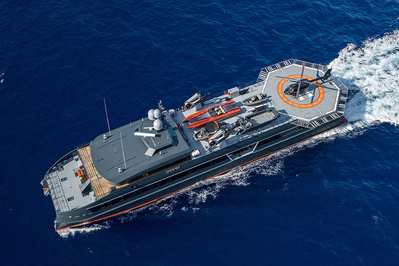 Incat Crowther announced the delivery of Shadow Cat HODOR, significant in that it is the first in the Shadow Cat range which for Incat Crowther.
Design and naval architecture was by Incat Crowther, project management and technical consultation by Robert Smith of YCTS and construction by Astilleros Armón at their Burela shipyard in Spain.
HODOR was customized to carry the specific equipment and supplies to support and enhance the owner's mothership capabilities, and the design uses engineering of hulls proven in offshore platform service, such as the SEACOR CREWzer class and Incat Crowther 70m Fast Crew Boat (FCB) class. The hull incorporates a reverse bow, a deadweight capacity of 240 tons and a low propeller draft of 3.1m.
The platform accommodates an astounding number of toys, facilities and personnel. This includes five tenders (the largest being 56-ft.), jet skis, quad bikes, a submarine garage, a helipad, a large complement of crew, staff and support equipment.
The tenders and submarine are flexibly located and can be launched from the upper and main decks; the upper deck via the two large knuckle boom cranes, on the main deck via twin beam cranes and the main feature of the vessel; the aft lifting platform for the 56-foot chase boat. A portable davit on the fore deck facilitates the launch and recovery of the vessels ROV and can also be used for additional jet ski storage.
Propulsion is provided by two main MTU engines, giving a max speed of 22.5 knots, or long-range cruising at 14 knots up to 5500nm. The catamaran platform allows fuel savings of around 40%, affording the full vessel range with only 160,000 liters of diesel fuel. The vessel's tankage supplies toys and vehicles with jet fuel, petrol and diesel from dedicated bunker stations.
Fitted with an exhaust cleaning SCR system for IMO Tier 3 and EPA Tier 4 compliance, greenhouse gas emissions are significantly reduced, allowing the Incat Crowther 66 design to be more environmentally friendly.
HODOR Shadow Cat Specification:
Design No: IC16211
Vessel Name: Hodor
Platform: Catamaran
Length Overall: 66.20 m
Length Waterline: 64.80 m
Beam: 14.00 m
Draft Hull: 2.3 m
Depth: 5.45 m
Special Personnel: 20
Deck Area: 659 sqm
Fuel: 160 000 liters
Fresh Water: 20 000 liters
Grey Water: 16 750 liters
Black Water: 3 200 liters
Service Speed: 21 knots
Maximum Speed: 22.5 knots
Range: 5 500 nm @ 14 knots
Main Engines: 2 x MTU 16V 4000 M73L SCR
Installed Power: 2 x 2 880 kW at 2,050 rpm
Propulsion: 2 x Servogear controllable pitch propeller
Generators: 2 x CAT C9.3
Construction Material: Marine Grade Aluminium
Flag: Cayman Islands
Class: Lloyds Register +100A1 SSC Support Catamaran HSCV G6, +LMC, Helicopter Landing Area, UMS