100m Trinidad and Tobago Ferry Launched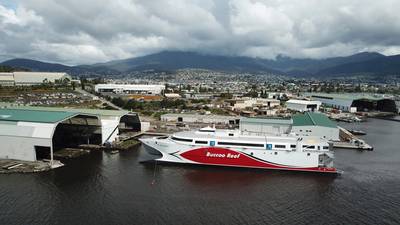 Incat Tasmania's 100m ship destined for Trinidad and Tobago was floated out from Incat's drydock on Hobart's Derwent River on October 9, and will remain alongside the shipyard wharf for machinery commissioning during October.
Powered by four MAN 7280-kW,l 16V 28/33 STC marine diesel engines driving Wartsila WXJ 1200 SRI waterjets via ZF 53500NR2H gearboxes, Buccoo Reef is designed to achieve a top speed of more than 40 knots.
Australian shipbuilder Incat commenced construction of Buccoo Reef early 2019, all major machinery and equipment has now been installed and together with electronic systems are being commissioned and tested in readiness for sea trials in November. The ship, Incat's hull 094, will be delivered later this year for service on the seabridge between Port of Spain, Trinidad and Scarborough, Tobago.
The passenger deck with capacity for 1000 persons is divided into three lounges which incorporate a range of bars and food service areas together with passenger toilet facilities.
The vehicle deck offers 175 full height Truck Lane Meters plus capacity for 182 cars, or if trucks are not carried the ship can accommodate 239 vehicles. Passenger access from the vehicle deck to the passenger level is via stairs or elevator. The vessel layout also includes cabins to accommodate up to 14 crew.
Passenger comfort is enhanced with a Naiad Dynamics active ride control system combining active trim tabs aft and a retractable T-foil located at the aft end of the center bow.