Maersk: Weak Economic Growth to Continue Hurting Demand in 2023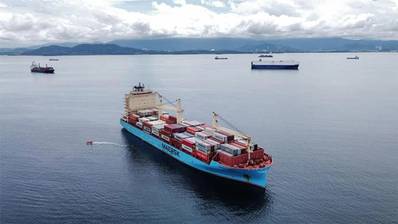 Shipping line Maersk said Wednesday the economy continued to face a high degree of uncertainty moving in to 2023, with the pressure of inflation, declining incomes, and further factors having an impact on households' disposable income. This was shared in the "Ocean" segment of its Europe market update.
Maersk said that high inventory levels and the strong possibility of anaemic GDP growth are also expected to continue negatively affecting demand this year.
"This is reflected in the recent decline in global containerised volumes, which dropped 3.3% in July-October 2022 compared to the same period in 2021. Import volumes into Europe and the Intra-European trade have also seen a significant decrease of 7% year on year. Additionally, ocean spot freight rates normalized in the second half of the year in 2022 and are now closer to the levels seen in the second half of 2020," Maersk said.
Whiplashes in Stocks and Supply Chains
"It's important to be aware that in 2023, we may see whiplashes in stocks and supply chains before stock levels normalise. These fluctuations may cause disruptions in the availability of goods and materials, which can lead to delays in production and delivery times. Customers must be prepared for such changes in supply and demand and have contingency plans in place to minimise the impact on their operations," Maersk added.
Maersk said that its customers should also be monitoring their own inventory levels and working closely with suppliers to ensure they have a clear understanding of their supply chain status.
"By being proactive and prepared, customers will be better equipped to navigate the potential challenges that may arise in the coming year and adapt to the changing market conditions," Maersk said.
"We're expecting a normalization in stock levels, economic outlook and consumer habits in the future that will extend to the containerised market. However, it's uncertain exactly when this will occur. This unpredictability is due to the ongoing challenges caused by current disruptors, such as the war in Ukraine, sanctions, energy prices and inflation. As the situation is so uncertain, businesses should keep monitoring the situation closely and making the necessary adjustments to maintain a strong position in the future," Maersk said in its update.