Maintenance Dredging at Port of Cape Town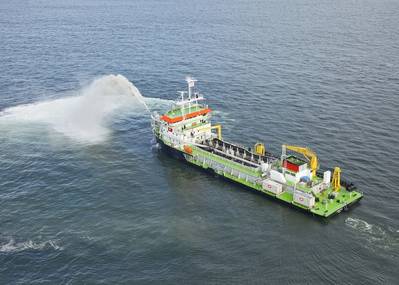 Transnet National Ports Authority (TNPA)'s Dredging Services division will soon embark on a maintenance dredging campaign at the Port of Cape Town to restore the design depths at certain berths inside Duncan Dock.

The maintenance campaign, which is set to start in early April 2019, is scheduled for completion by the end of May 2019. The main objective of the dredging campaign is to ensure the Port of Cape Town provides safe navigational channels and berthing facilities for shipping.
TNPA said recently that it would prioritize the removal of high spots that had been detected within Duncan Dock.
Two dredging vessels, the Isandlwana, a Trailing Suction Hopper Dredger and the Italeni, a Grab Hopper Dredger will be mobilized by TNPA Dredging Services for this purpose. The two dredgers will complement each other in that the TSHD is built for high speed sailing to the offshore disposal site while the Italeni improves the accuracy of the final dredged depths. Multi-beam bathymetric surveys will be conducted at regular intervals throughout the campaign to ensure that all areas within Duncan Dock are restored to their original design depths.
Isandlwana, which has a 4200 cu.m. hopper capacity, will remove approximately 60,000 to 70,000 cu. m. of material from the harbor sea bed. Dredged material is pumped into the hopper and can be offloaded by discharging through conical bottom valves. The dredge material within Duncan Dock will be disposed of at the offshore disposal site. The use of the offshore disposal site has been approved by Department Environmental Affairs.