Disney Cruise Ship to Get Marvel Makeover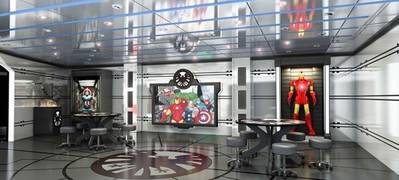 Disney Cruise Line's first ship, 'Disney Magic', is due to be refitted & modernised during her Fall 2013 drydocking in Spain.
Included in fairly extensive renovations and interior additions will be the creation of an area that gives a chance for young 'recruits' to unleash their inner super heroes at Marvel's Avengers Academy! This is the first time Super Heroes from the Marvel Universe have been introduced on a Disney Cruise Line ship.
Besides that, an 'AquaDunk' slide will be added, which starts with a near-vertical launch and then sends guests in a translucent tube 20 feet over the side of the ship…

Other more general changes to the ship, launched in 1998, include redesign of cabins, dining rooms, play spaces, and adult areas as well as an upgrade to audio technology, lighting and decor.
Source: Disney Parks Blog/Disney Cruises