Teledyne Webb's APEX® Deep MakesRecord Dive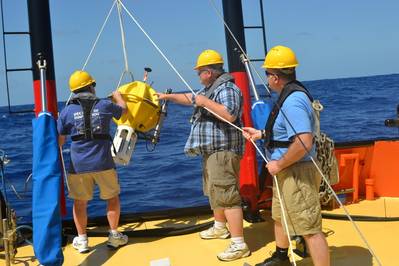 Teledyne Webb Research's Autonomous Profiling Explorer (APEX®) Deep, dives to a record 6,000 meters.
The record drive, in the Puerto Rico trench was launched from the R/V Kruger B out of San Juan, starting its dive the afternoon on February 25, 2013. Approximately twenty two hours later the float surfaced and transmitted its data over the Iridium satellite network.
APEX floats are based on a buoyancy engine and have been commercially available since founder Douglas Webb opened Webb Research in 1982. APEX floats descend to a programmed depth where they become neutrally buoyant and drift. After some interval, usually five to ten days, the buoyancy engine makes the float positively buoyant and it rises to the surface, where it transmits collected data such as temperature and salinity, back to researchers via satellite communications.
Researchers feed the data into climate, ocean and weather models. The results are most meaningful when a large population of floats is at sea sampling the oceans. By designing and manufacturing highly energy efficient, reliable and low cost systems, Teledyne Webb Research has been able to play a leading role in populating the world's oceans with profiling floats. Over two thirds of the world's Argo network of profiling floats is some variant of an APEX. Teledyne Webb Research has delivered over 7,500 profiling floats during its years of operation.

"We are committed to providing researchers the most reliable and cost effective profiling floats available, designed to satisfy different requirements and operate in the harshest environment on our planet," said Thomas Altshuler Ph.D., Vice President and Group General Manager of Teledyne Marine Systems. "We already offer a variety of APEX models from the standard Argo float to highly complex systems designed to collect data on ocean biology and chemistry. Now we are extremely pleased to offer the deepest diving commercially available profiling float, allowing researchers to collect vital information at depths that were previously inaccessible in an economically feasible manner."