Marie named "Honorary Frogman"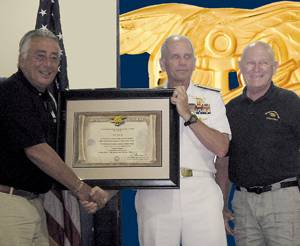 At 10:00 AM on July 19, 2008, Zodiac of North America, Inc. President and CEO, J.J. Marie, became the newest SEAL in the United States Navy. Rear Admiral Garry J. Bonelli, Commander, Naval Special Warfare Command, presented Marie the certificate during the East Coast SEAL Reunion Breakfast/Business Meeting at the Naval Amphibious Base, Little Creek.
Only 175 people have been named "Honorary SEALs" in nearly 50 years. Marie received a standing ovation from the 200-plus in attendance for his ardent support of the Naval Special Warfare community. Attendees ranged in age from
the final few UDT who fought in WWII and to and Enduring Freedom-era SEALs. Marie is a Board Member of the SEAL-Naval Special Warfare Foundation, a non-profit 503c corporation that provides wellness benefits to the families of Naval Special Warriors. He is also a lifetime member of the UDT-SEAL Association. Marie has assisted in fund raising and awareness raising activities, including the SEAL Wives Against Terrorism (S.W.A.T.) tour, a
fund raising event featuring the wives of SEALs, following the attacks on 9/11/01.
"This is quite an honor for me," Marie responded. "In this time of the Global War on Terrorism, active duty SEALs are doing heroic and courageous acts every day that make a difference in the lives of so many. To support this community and their families is an honor for me; to be included in this way is just over-the-top and very humbling."