MarineLink.com Gets a Facelift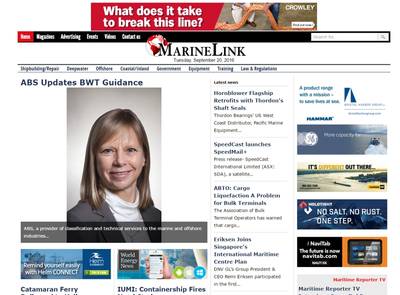 MarineLink.com
– the commercial maritime industry's longest running online news site, launched a newly designed version today. The new mobile-friendly site features a sleek new look, enhanced search and archive functions, easier navigation, videos and much more. The new MarineLink will bring the latest news and editorial, as well as insightful archives to the palm of your hand.
Marinelink.com, has been the premiere news source online for the commercial maritime industry since it launched in 1998. This new design and look is the third evolution of MarineLink and the most interactive and accessible to date.
With the launch of the new MarineLink comes the latest endeavor from Maritime Reporter & Engineering News,
Maritime Reporter TV
. Maritime Reporter TV, Launched at SMM 2016 in
Germany this
year, brings insightful interviews with the industry's top executives right to your screen.
Check out the latest Marinelink.com and see Maritime Reporter TV's debut interviews including top executives from MAN Diesel & Turbo, Alfa Laval,
ExxonMobil
and many more.